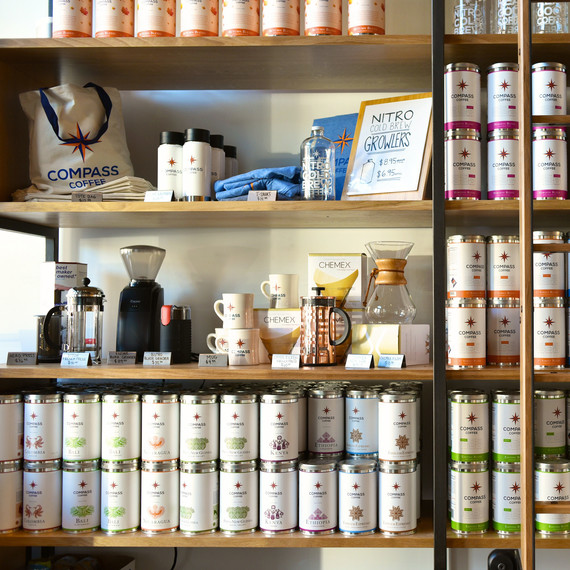 Meet Michael Haft and Harrison Suarez -- the masterminds behind one of Washington DC's favorite coffee shop chains -- Compass Coffee. They became friends as infantry officers in the USMC while "learning how to navigate with a map and a compass." We caught up with them at the Martha Stewart American Made Makers Meet-Up in Washington D.C. and asked them to tell us more about how they started their business.
In 2011, they were both deployed in the Helmand province in southern Afghanistan, where they drank a lot of "bad instant coffee."
"We also spent all this time drinking tea with the Afghan police where I was embedded and the police, and Harrison -- with the army," says Haft. "And literally, we're learning about their culture and their society by drinking tea and hanging out, and we're rebuilding a city together."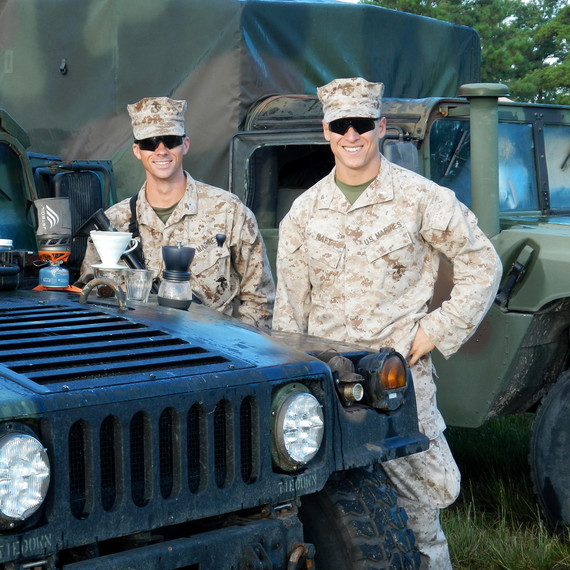 After their intense seven-month deployment, Haft and Suarez came back to Washington DC thinking: What do we want to do next? And they remembered that through it all, they had their ritual: "We were drinking a lot of coffee. It became an obsession." So they looked around and realized that no one else in DC is roasting coffee. "There's something special about coffee. It pulls you in," says Suarez. "We liked that you can spend time with other people doing it, and just share it with other people. It's a very social thing. And we realized this could be a fun business that we could be good at."
So after spending some time learning all about the ins and outs of roasting coffee in Michael's parents' house and apprenticing in a few different roasteries throughout the country, they made the jump. "The reality is, being a small business and a Maker, you just take the plunge and you figure it out," says Suarez.
Four years later, they no longer work out of the basement of Michael's parents' home. They source their product from the three major coffee regions in the world—the Americas, East Asia, and Africa, which then they roast in their own roastery in the Shaw neighborhood in Washington D.C. You can buy their coffee in 24 Whole Foods locations or at one of their several coffee places throughout the nation's capital.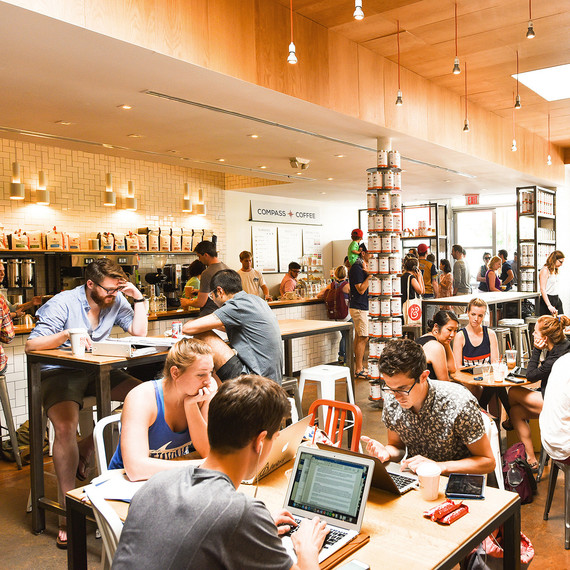 There were of course a few roadblocks along the way. "We had to fire a contractor midway through the project, and me and Harrison had to build everything ourselves," says Haft.
"I had to learn about woodworking. Plumbing, electrical, all the things that go into making a coffee shop, we had to figure out," adds Suarez. 
But they both swear it's fun. The most meaningful part of the whole experience for them is training and mentoring their team to be better. So if you happen to be in DC any time soon, check out Compass coffee.
Related Video: Here's How to DIY Coffee Frappé