Who said there's just politics happening in Washington D.C? The nation's capital is actually a creative incubator for small businesses and at a recent Maker Meet-Up, part of Martha Stewart's American Made campaign, proved this. The event hosted by Union Kitchen and the first local woman-only owned distillery Republic Restoratives (more on them later), brought together talented local artisans and small business owners from all fields—fashion accessories, home decor, food, and drink.
Here's a question—what does a trio of pie bakers have in common with a producer of eco-friendly furniture? The answer is—when life gave them lemons, they made lemonade.
"After my wife and I had a baby, I lost my home office to a nursery," said StandCrafted founder Jamie Terbeest. "So I sat down in the living room, stared at the blank wall in front of me and wondered what can I do with this space to actually be able to work here." So he worked with what he had, in this case 10 feet of square space, and designed a standing desk that hangs on the wall and that completely re-invented the design of 'a desk' as we know it.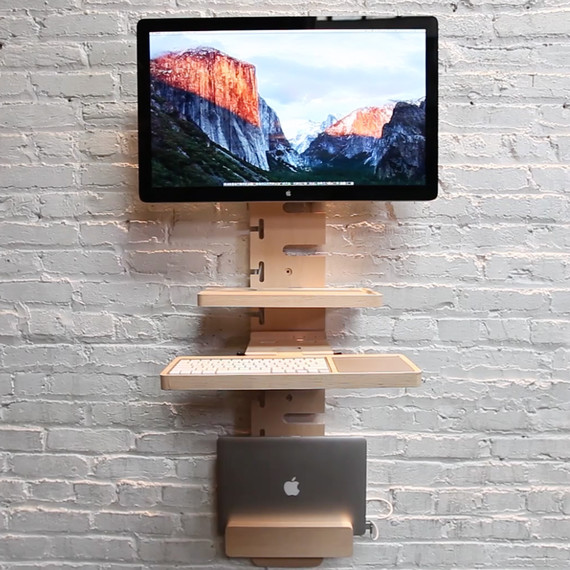 For friends, Rebecca Bourgeois, Jordan Guevara, and Elan Nguyen, it all started with an awkward encounter where they misheard a word. How did that inspire them to start a pie company? They wanted to encourage people to discuss life's little awkward moments (like someone saying 'I love you' and you responding 'Thank you,' for example) over pie. And even though they launched their company Awkpies (from 'awkward' and 'pies') last November, it's already growing rapidly. They offer four pie flavors including The Babe with pulled pork, goat cheese, blackberry jam, pickled ginger; and The Cheese Plate (or 'Millennial Dinner Party' as they call it) with manchego cheese, prosciutto, fig jam, almonds, pears, rosemary.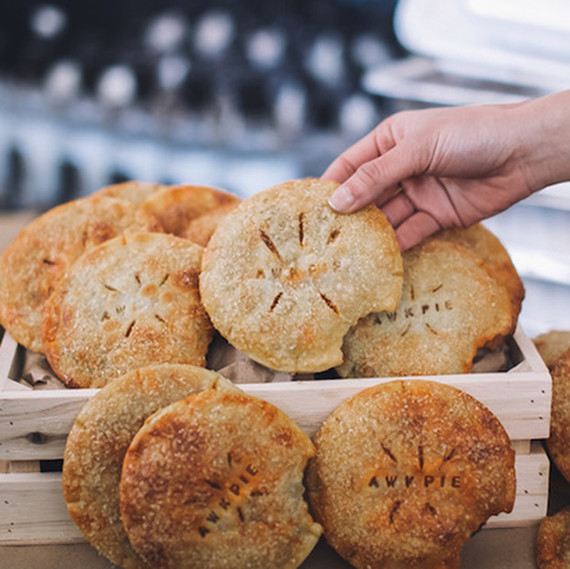 And while for some, business owners seeing the silver lining in a situation marked the beginning of their companies, for others it all started with a hobby that eventually led them to quit their full-time jobs to focus on developing it into a business.
Take former Washington Post food reporter Holley Simmons, for example. After working for almost four years in one of the nation's most prestigious newspapers, she left it all to focus on her "DIY mentality," as she puts it—something that she's had in her since she was a child. Now, she owns Sill Life—a company that offers one-of-a-kind terrariums crafted using succulents from a family-run nursery. She even has some celebrity fans—Gwyneth Paltrow's trainer, Tracy Anderson, recently posted a photo on Instagram that shows one of Simmons' creations.
Of course, working for yourself rarely means a 9-to-5 schedule and the challenges small business owners face are not easily overcome. Just ask Rachel Gardner who together with her best friend from childhood started the distillery Republic Restoratives nine months ago.
"I think we're the only woman-owned distillery here in the District of Columbia and one of probably about a dozen in the country. So it's a relatively male-dominated field," she says. But that didn't discourage them. They "brewed their way into the business" and currently offer two spirits—Civic Vodka and Borough Bourbon. That's not to say they didn't have to deal with some major prejudice based on their gender. 
"We did have some challenging meetings at the beginning where we'd go to a bank or to source contractors, and we'd bring our sales guy with us. And generally people would address him in most meetings and he'd tell them 'Well, you should talk to these ladies because I only work here'."
But despite the challenges, Gardner is excited to put her entrepreneurial prowess into work and be her own boss. "We really wanted to be a part of this transition of people really localizing food and beverage. And I see whisky similar to craft beer in that there is a localization movement going on." 
To read more about being featuring in Martha Stewart's American Made campaign, click here.