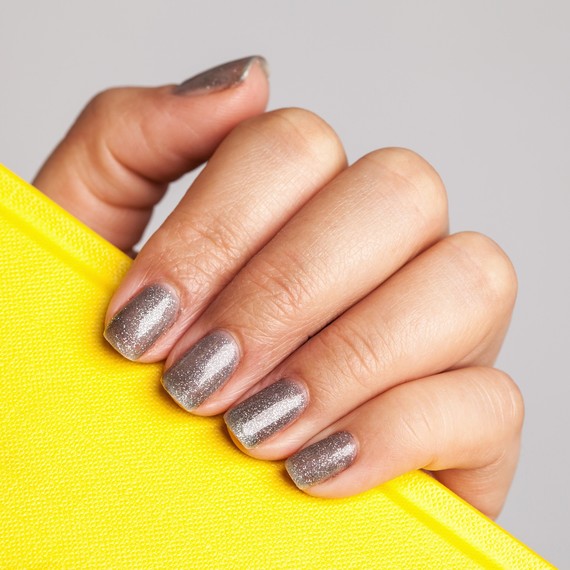 Adulthood is one of those big question marks for me. While I very much feel like a woman, there's a part of me (and not a small one) that is reticent to let go of some of my more childlike qualities. Perhaps this is an early sign of clinging to the vestiges of my youth. But more likely, it stems from the notion that we're still the younger versions of ourselves, the exterior has simply changed. My exterior, has changed a lot through my teens and early 20s because of the requisite personal experimentation of hair cuts and dye jobs, but now that I'm in my mid 20's my look is more ironed out (whew) and while I'm still girly and playful, I err more on the side of sophisticate than ingenue.
And with that comes a standard manicure. I seldom stray from a vampy red or a glossy nude. Those are my go-to's and for the most part I'm fine with that.
But lately, I've been yearning for a little whimsy. Something more playful. Maybe it's the weather, maybe it's the state of the world -- who the heck knows. What I do know is, glitter scattered across my cheekbones on a whim makes me smile. That doesn't necessarily work for day-to-day meetings though (sometimes you just have to have a clean classic look,) but that got me to thinking… is it possible to have an office appropriate, but still sparkly manicure that makes your heart flamenco? So, I did what any intrepid investigator would do: I fell down the Instagram rabbit hole.
After about 30 minutes of searching, I found the elusive sophisticated glitter look of my dreams. Behold:
It's everything I could have dreamed of and more -- subtle but still sparkly. There's an air of unexpected effervescence, but the core of the look is clean. Get you a manicure that does both. 
Honestly, one of my favorite parts about this manicure, is that while it's embellished, someone like me who is hopeless when it comes to painting their own nails can still accomplish it with aplomb. It's a fresh take on the French manicure, but also not quite a half-moon mani. A convergence of two classic manicure staples, but a classic in its own right. A neutral nail with a clean line of glitter at the base -- who would have thought that could make for a chic and simple staple? 
Given my newfound penchant for glitter, and my ambition to actually do it myself, I reached out to the creator of this groundbreaking (for me) mani, Jessica Tong, ambassador for Smith + Cult. As far as glitter gradient goes, Tong says it's really up to you, " Both types of glitter (chunky or fine) can be really fun to jazz up any manicure. It depends on what you want and how much you want to shine." Glitter application can be a little temperamental though, so Tong suggests after you apply your nude or sheer coat, that you employ this simple method of application for your sparkle factor: "When you are applying your glitter, dab, don't drag!" says Tong, because this means of application will make your glitter coverage more even. Noted.
Also my new mantra is coming straight from the glitter nail queen herself, " Glitter is an essential ingredient for being fabulous, there nothing juvenile about that," states Tong. We now have carte blanche to put glitter everywhere, and honestly I'm not complaining.
I was also worried about nail shape. Would a certain length make this look cheap or dare I say … tawdry? Not so, according to Tong, "Nail shape doesn't matter. A clean, filed nail is all you need."
Basically, glitter nails are not nearly as complicated as I had originally assumed. This of course, is fantastic, because who has the time for complicated these days? What you do have time for, however, is glitter. Specifically on your nails. Every time you look down, you will smile. You will feel extra glam when you pull out your wallet to buy groceries even if it's at 8 a.m. on a Saturday morning.