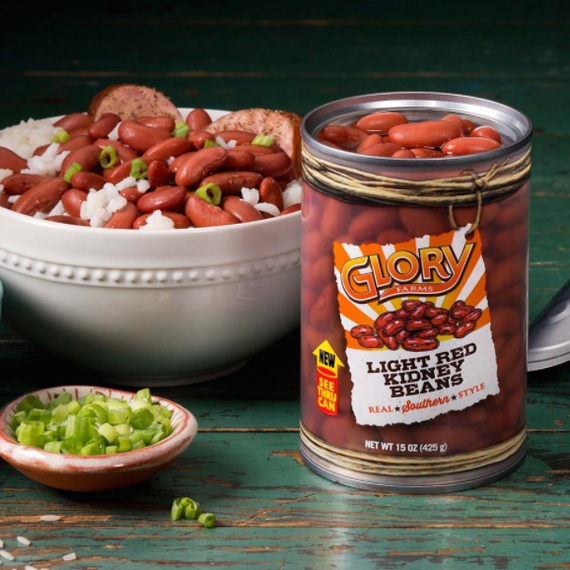 We consumers could always use a little more transparency when it comes to our food and now canned foods company McCall Farms is taking a literal approach to solving the problem by introducing the first-ever line of canned bean products in clear, plastic cans. They are partnering with TruVu and using a new line of see-through cans created by packaging company Sonoco partnership with TruVu.
The see-through can is made of a multi-layer plastic body, but with a top and bottom still made of metal. This means that the new cans will not necessarily cost more to produce than their metal counterparts since it's possible to continue using the same machinery in the manufacturing process. The gains that come with making the switch, however, can be considerably large for companies in an age when more and more consumers are seeking transparency in their food. The clear cans indicate a brand is committed to providing the highest quality product and that it doesn't have anything to hide  -- no mushy vegetables, unwanted ingredients, or, in extreme cases, the wrong product. 
(TRY: these delicious dinner recipes that start with canned beans, chickpeas, and lentils)
"The can signals the purchasing cues of better taste, freshness, authenticity and higher quality today's shoppers are looking for in their mainstay canned food products," said Brian Risinger, director of corporate communications and investor relations at Sonoco, in an interview with Project Nosh. "They want to see what they are buying and it adds a bit of the feel from the perimeter of the store to the center of the store."
Currently McCall Farms has distributed clear cans of seven bean varieties to just 400 grocery stores belonging to two retailers: Harris Teeter and Ingles. We're sure clear canned goods will be in your local supermarket soon.
If you love canned beans as much as we do, you'll want to try this red-bean burger recipe: