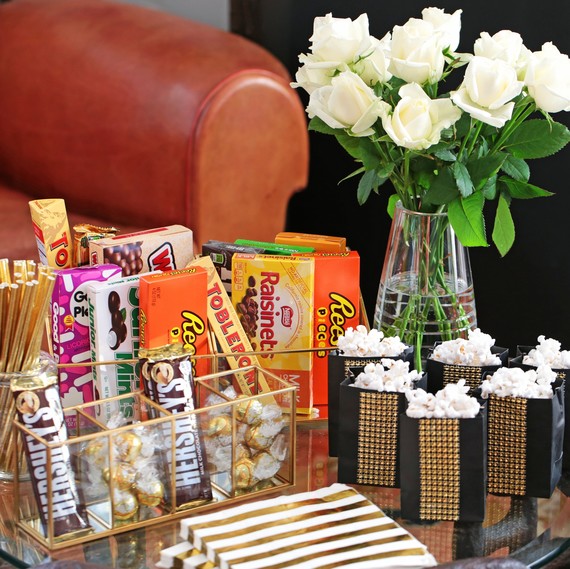 Since your Oscars invite is still stuck in the mail, you should probably start thinking about throwing a party of your own. And by that, I mean nothing crazy — just a few friends, some champagne, and an excuse to eat movie theater popcorn and candy from a box. This is by no means complicated. (I mean, can you make popcorn and go shopping? I thought so.)
Since the whole point of an Oscars party is to watch the awards show, set up all of your snacks and drinks on your coffee table, so your guests don't miss the best speech of the night (or when someone trips). For the snacks, choose all of the favorites we look forward to when we indulge at the cinema like classic candy and popcorn (extra points if you find them in these great themed boxes).
[BE INSPIRED: 11 Award-Winning Oscar Party Ideas]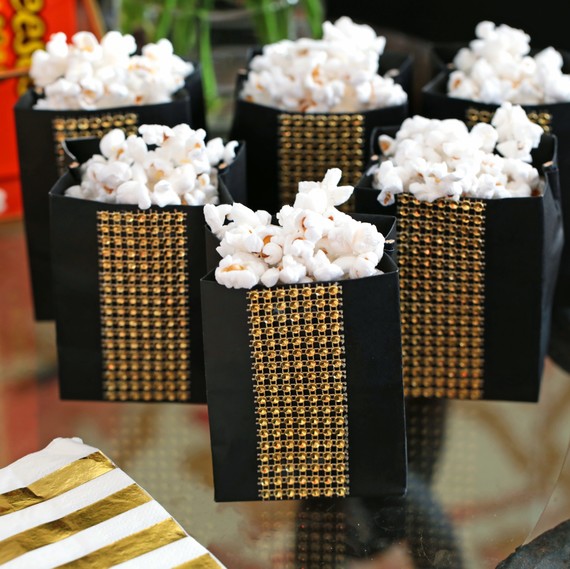 To avoid passing a huge bowl of popcorn around, I made little popcorn bags that can double as party favors. I took these small black gift bags, cut off the handles, and added some bling I found at the craft store. I cannot wait to see all of the selfies my guests will take holding these cute little popcorn bags.
For the colors, I went with black, white, and gold. (We must have gold!) Luckily, these colors are quite popular, I even found metallic paper straws (they are my new favorite thing). Think about something to put the movie theater candy in, you might have something hanging around the house. I picked up these simple holders that are meant for a desk that worked perfectly to hold all of the snacks.
Oscar ballots have been around forever, but I wanted to try something new this year. (Besides, who wants to fight with a printer when we could be sipping champagne?) I am using a new polling website Pick Pete where you can set up your own Oscars poll and have your friends make their pics ahead of time. When the show is over the winner of your poll is revealed via email. You could put money on it or just give a fun gift.
Put this party together for your friends and they will feel like they are at the actual Oscars. And actually, it's  better because they won't be fidgeting in three layers of shapewear and an uncomfortable gown. The only challenge will be topping this party next year! What would be your ideal prize for winning an Oscar poll? (Mine is probably the "Heart of the Ocean" from Titanic... I can dream, can't I?)
Feeling inspired to try this at home? Here's more of a sneak peek of my Oscars party: