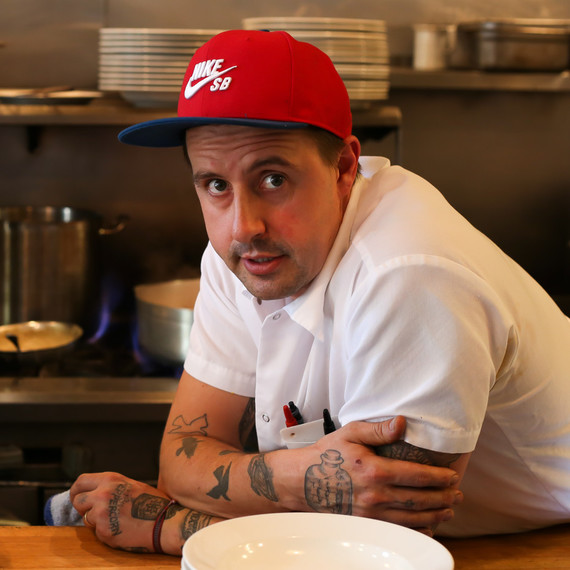 It's difficult for a restaurant to maintain its popularity beyond its opening buzz these days, especially in a major food city like Portland. Diners may always be looking for the new "hot" place, but there's something to be said for a restaurant that continues to evolve and turn out consistently delicious food. Le Pigeon, which chef Gabriel Rucker opened in 2006 when he was just 25, is such a place.
Named after one of his tattoos (how is there not a Portlandia skit about this??!), Le Pigeon is Rucker's take on a French bistro, with an open kitchen and inventive riffs on everything from foie gras to boeuf bourguignon. Rucker has since written a cookbook by the same name, won two James Beard awards, and opened a sister restaurant, Little Bird. We caught up with him after his demo for our first ever Instagram Live.
What's the most important lesson you've learned after more than a decade in the restaurant business?
Always treat people with respect. Let your employees, especially the cooks, be themselves and participate in the creative process. Balance is also key. I have two kids with another one on the way, and I'm now able to be home with them four nights a week, which is super important to me. You always hear about chefs burning out, and I'm really trying not to do that. Right now if you come to Le Pigeon, three nights a week, I'm there making your dinner and searing your foie gras, which I love and want to keep doing for the next 20 years. And I'm lucky enough to have such a solid team that I know the food will be great even when I'm not there.
What's your best advice for home cooks?
Rules are meant to be broken. Recipes are just a guideline. Don't get so wrapped up in 'did I do exactly that or exactly this.' If it feels right, go with it. If it feels wrong, stop and read the recipe again. I like to have fun with food -- take it seriously but also don't. There's a time and place for a directly sourced, beautiful organic piece of chard, and there's a time and place for an awesome piece of melted American cheese. A practical tip: don't add all your salt at the end when you're cooking because you'll have to put in so much more. It's important to build blocks of flavor along the way.
Did you cook a lot when you were a kid?
One of my chores was making dinner once a week. My favorite dishes to cook were spaghetti -- I would make the sauce from scratch -- and anything Mexican. I also remember being very young and making my first tuna salad, but I put a bunch of weird stuff in it. A lot of the food I'm familiar with is simple Americana stuff, not necessarily stuff made from scratch, but medium-level junk food, which I still pull from sometimes. We make a pigeon churro at the restaurant, where the pigeon is confited, tossed in cumin-scented maple syrup, deep fried, and tossed with Cinnamon Toast Crunch cereal.
Have you taught your kids to cook yet?
Yes, my three-year-old daughter wanted a real knife for Christmas this year. I got her a lettuce knife. It's plastic but serrated so she can cut stuff. My son is five and he just goes and gets a knife out and cuts up apples now. They hang out with me in the kitchen, and I'm very aware of their respective cutlery but also making sure they're not fearful. My wife will also bring the kids by during the middle of service at Le Pigeon, and they have no fear -- they'll just walk right along the line.
And since all roads lead to Martha, have you met her before or when did you first become aware of her?
I have not met Martha before, but like everyone else, I was of course aware of her growing up. If you want the completely honest answer, the closest I've ever been to Martha before today was the first pair of sheets I bought for myself. They were Martha Stewart.