I'm a big believer in bringing kids into the kitchen. They want to help, and even the littlest toddler can stem a few sprigs of thyme. And my best trick for getting my six-year-old daughter to eat something I want her to try that she may not want—aka "new" or healthy foods— is to have her make it with me. Once she's part-owner of the dish, she's usually first in line, the taste-tester even, to try it and (usually) like it.
For any foray into cooking with kids, there are three things to consider:
1. Choosing a recipe
2. The division of labor; adult supervision is always required.
3. Setting aside enough time so you're not rushed—which is why weekends are the gold standard when it comes time for cooking projects with kids.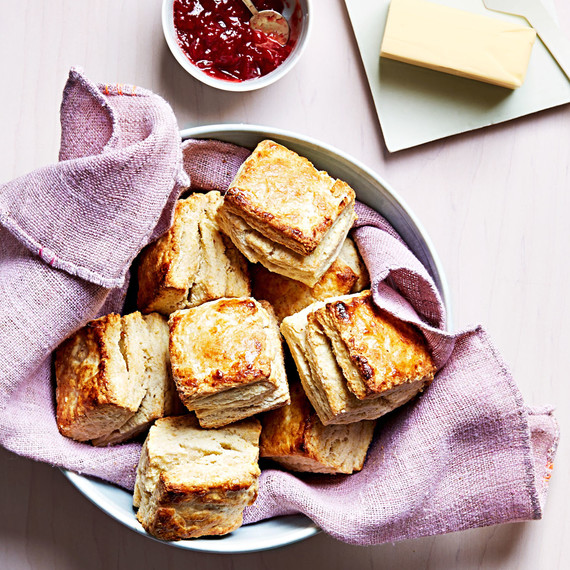 QUICK BREADS
For young children or cooking novices, you can't go wrong with a quick bread. And by quick breads, I'm talking about goodies like muffins, scones, biscuits, and simple loaf breads that do not require yeast or time to rise. They are mixed quickly, and after the magic of baking—POOF!-- you've got a baked good to enjoy and brownie points for a quality family experience.
How can you go wrong? I'll tell you: The first time I baked with my daughter, I found myself panicking as she leveled off flour in a dry measuring cup, somehow doing it so multiple divots formed in what was supposed to be a flat, leveled surface. It took twice as long as I'd expected, but I'm happy to say it was all worth it—she was so proud of our banana breads that slices were served for breakfast and dessert until it was gone. I also used our ingredient-measuring to teach her about the difference between dry and wet measuring cups—she hasn't forgotten since and I had a proud mom moment when I heard her sharing that all-important lesson with a grown-up cook. My advice: If your children are under 6, consider pre-measuring ingredients or gearing up for the patience required for walking them through the all-important act of measuring.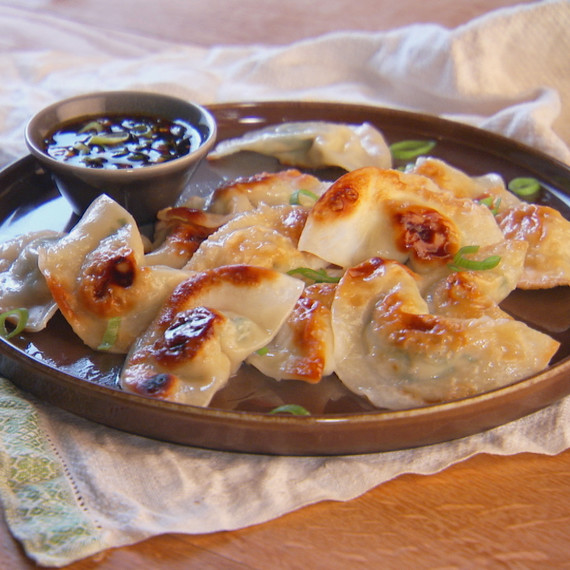 Dumplings
We've also tackled dumplings, which I now consider sculpture for kids after seeing them folding and pinching together dumpling skins. My role in dumpling making is to chop the ingredients. My daughter measures them after finding the right measuring cup, and I watch her like a hawk when handling raw meat, which is doable for kids old enough to keep their hands out of their mouths. From mixing together the dumpling filling to portioning it off for each dumpling skin, it's another opportunity to teach young cooks, this time about how to safely handle raw meat. (Luckily, my kid didn't ask questions once she felt it herself—she wanted to wash her hands, pronto, once we were done filling and folding.) Take the time to show how too much or too little filling affects the shape—and delicious pay-off—as well as the different ways of sealing the dumpling: pinching, making pleats or ruffles, using the tines of a fork to press; then let the mini-sculptors get to work. Next up ravioli, which are similar in method—and like dumplings, they're great in big batches as they freeze well.
LET'S MAKE DINNER
That brings me to the utilitarian weekend cooking project: foods to eat now, and freeze for later; essentially, quality family time that delivers once you've forgotten about it and are thankful to find it later in the freezer. Tomato-based, non-starch dishes work well here—think chili, stew, a Bolognese sauce or meatballs—in addition to crowd-pleasers like lasagna, enchiladas, calzones, and other freezable casserole-type bakes. Younger kids can help with basic cooking tasks like measuring and adding ingredients and stirring; while kids 8+ , can read a recipe, track timing, and try their hand at the actual cooking—all under adult supervision, of course. As for the assembly required in some of these dishes, let the kids run the show for a messy adventure in division and following instructions. Kids enjoy the responsibility of cooking, so take a moment to think about the recipe tasks they would like to do and likely could do. The best part is the taste-testing and that is suitable for all ages.
WEEKEND-WORTHY COOKING PROJECTS
Some recipes need a luxurious stretch of weekend to turn out the final dish. Delicious gems like summer rolls for lunch or early dinner (potentially a no-cook meal), fish and chips for a hearty weekend meal, or even a cookie or proper dessert (maple cake and berry-filled hand pies, anyone?). The same is true for gratins, which require assembly and sometimes pre-cooking before baking. With the likely need for repeated slicing of a gratin's star ingredient, we've come to the junction where either it's a job for parents before the kids handle assembling, or it's perhaps an opportunity to teach older children how to safely handle a knife or handheld slicer: Teach them how to safely curl under the fingers of the guiding hand while slicing to keep them out of harm's way, or show them how imperative it is to use the hand-guard that comes with most handheld slicers. Oh, and did I mention that gratins (and calzones) are ideal vessels for introducing/hiding nutritious ingredients everything from broccoli to turnips?
I'd be lying if I said we haven't had some misses. My daughter's young palate hasn't quite developed a liking for flavorful curries yet. That doesn't mean we're not going to keep trying, next time with maybe half the curry paste or garam masala. Here's to many more weekend adventures in cooking and baking!