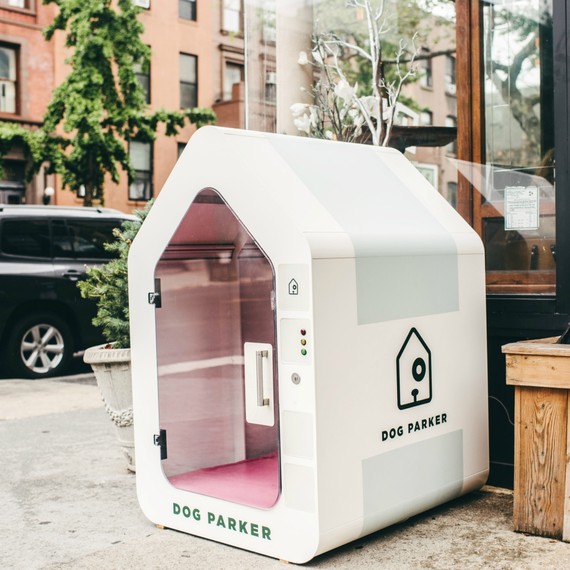 Owning a dog in the city presents its own unique set of challenges: there is always plenty of activity, traffic, sounds, and people passing by. And while the daily walk around your neighborhood is a welcomed pasttime between you and your pet, it's a problem when you have to run inside your local coffee shop to grab your morning java and leave your dog out front, alone and unattended. Enter the new invention called Dog Parker, the self-claimed, "neighborhood doghouse," which is addressing the issue by coming up with a safe temporary dog housing solution.
Dog Parker is basically a smart high-tech dog house located in the front of various city storefronts and restaurants where you can leave your dog with peace of mind inside as you go about your business. While you're away, your dog can rest assure that he's in a safe, comfortable, clean, and monitored dog-friendly environment. The idea is as smart as it is pet-friendly, together a series of high-tech abilities are equipped inside the Dog Parker. Dog Parker auto-sanitizes each unit inside with special UV-lights to warn off the passing of viruses and diseases between each pet's stay. Aside from auto sanitary conditions, the smart dog house is thermo-controlled (32-80 F) to keep your pet comfortable all year-round as well as connected to the internet with an app you can download on your smartphone to live stream your dog inside the house. Once the pet is inside, you can control the home's lock on your phone with the assurance of knowing no one else will be able to access your pooch. No longer will you feel inclined to leave your dog at home while you go about your day.
[DON'T MISS: This "Smart" Crate Is Designed to Help Relieve Your Dog's Anxiety]
This idea was invented by Brooklyn native, Chelsea Brownridge as she grew tired of leaving her dog, Winston home alone when she walked to join her friends for breakfasts and brunches. She recently told The New York Post, "I ran into this problem dozens of times. It was a bummer because it was a nice day and he wasn't going to be able to go outside."
This spring, they are excited to have around 100 units of her inventive safe dog house planted in various New York neighbors with the abundance of the houses in the Brooklyn area. Once the warm weather finally decides to stay, dog owners just might be able to have their coffee, donuts, and dog all in one morning's walk. For those interested, the yearly fee for using Dog Parker runs $25 in addition to $.20 per minute for the service.
And at home? Here's how to clean your pup's bed: