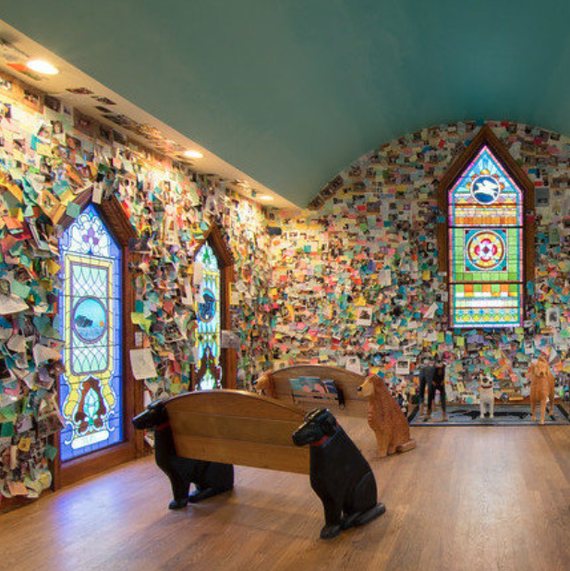 It's believed by many that dogs are a gift from above with their constant devotion to us in good times and in bad ones. (Plus, what's "dog" spelled backward?) While we have the pleasure of attending church, our dogs mostly wait back at home for our anticipated arrival. However, one small chapel in St. Johnsbury, Vermont, has gone to the dogs or rather was created solely for canines a top of Dog Mountain, an expansive 150-acre mountaintop. Aside from Dog Mountain's ponds, forest trails, and other pet-friendly adventurous pasttimes await what may be the first church where dogs are the main worshippers.
The sign out front reads, "All creatures welcome" — and that includes canine companions. The chapel even honors man's best friend with luminous stained glass windows etched with dog silhouettes to the unique canine-shaped door knocker and the intricate paw-detailing in the chapel's woodwork. Aside from the creative pet-friendly fixtures (a dog licking an ice cream cone is painted in the stain glass window) and dog detailing the chapel has tons (and tons) of photos with messages that past visitors have left upon the passing of a pet.
[DON'T MISS: 7 Surprising Ways Your Dog Says "I Love You"]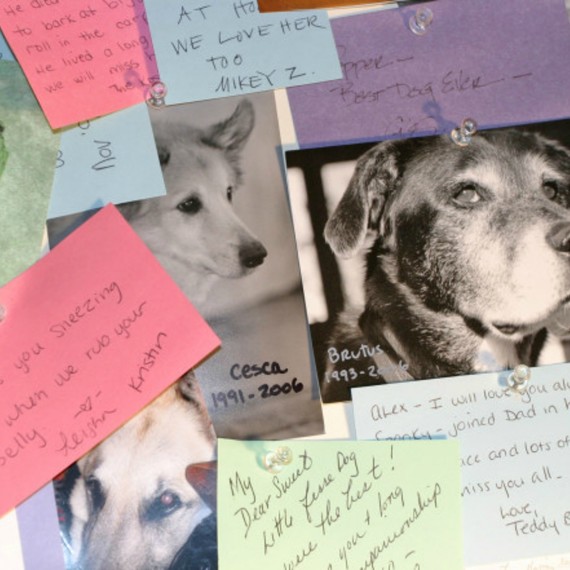 Losing a pet is never easy. The modest chapel resting in Dog Mountain provides more than a place for dogs to reflect, but it's allowing grieving pet parents to cope with their losses in an environment where other pet owners can relate. Notes have been left on the walls of the chapel by grieving pet owners. One handwritten note reads, "Dukie, we miss you sneezing on us when we rub your belly" and another implies that a passed pup will be joining other family members in heaven.
Aside from the letters covering the chapel's walls, there is another fixture that is hard to miss upon entering the building — an angel wing statue of a labrador retriever named Sally rest in the chapel's center. The statue was carved by children's book author, Stephen Huneck, to pay tribute to his beloved dog, Sally. "The largest artwork of my life and my most personal," Huneck says. "When you visit the Dog Chapel, you are totally enveloped with messages of love. It is a very moving experience — sad, certainly, but also uplifting — to see how much everyone cherishes his or her dog."
Why not take a trip — with your furry friend — to the dog chapel in St. Johnsbury, Vermont?