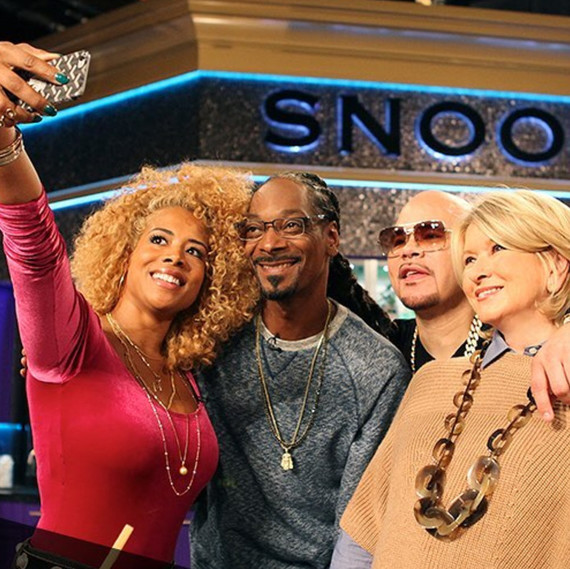 Martha Stewart and Snoop Dogg took their culinary skills (and our culinary aspirations) to new heights on a pig-themed "Martha & Snoop's Potluck Dinner Party" episode last night. From perfectly concocted mojitos to an oddly interesting spice rack, here are some of the most memorable scenes from the latest installment of this must-watch series:
1. The pair walk in with a giant pig
Go big or go home, right? As soon as Martha and Snoop walk in with a pal wearing a pig costume, we know we are in for a wild ride. "Just about everything here is smoked," says Snoop as he enters the stage.
​2. One of their guests is a championship pig caller on the episode
Yes, pig calling is a thing. Just ask Andrew Methaney, the championship pig caller that stood by Martha and Snoop all night. He even showed off some of his pig calling skills!
3. Martha makes her classic Cuban mojito
Winter or summer, a classic mojito is always a good idea... and it helps wash down a perfectly cooked pork-based meal. Even better than the cocktail itself? Snoop's toast before drinking it: "Mojitos are from Cuba, pigs are from the south, everything Martha makes is delicious ... so put it in your mouth!"
(THIRSTY? Get our mojito recipes)
4. Snoop is even funnier than usual 
Right after taking down his mojito, Snoop starts kidding around: "I call this the North Korea," he says in reference to the drink. "Because after a couple of these, everyone is going to isolate you."
5. And the guests are super special
Martha and Snoop always welcome awesome friends to the show but, last night was no exception: First up singer-turned-chef Kelis. She brings some candied bacon for the hosts ("My favorite!" says Martha). Then Martha introduces Fat Joe, who brings cabbage as a thanks-for-having-me gift. "Anything green is gonna always be alright with me," comments Snoop.
(LEARN: more about Kelis and her cooking skills)
6. There is a whole pig on the table
Martha unveils a 50-pound whole pig and the audience (both in the studio and at home) goes wild. A roasting box is also brought on stage and all four "chefs" strain to carry the pig into the box. Pro tip: If you're looking to make a similar recipe at home, make sure your pig sits in the refrigerator over night.
7. Snoop's strange (but appreciated) spice rack
In true Snoop fashion, his spice rack is somewhat eclectic. It includes: OG onion powder, garlic powder hash, Lawry's seasoning skunk salt, Johnny's sativa salt, paprika haze, and black pepper cush.
8. That secret sauce we keep hearing about makes another appearance
Uncle Reo walks in with a briefcase that contains that secret sauce Snoop constantly refers to. What is the special ingredient? "Jesus," he responds. "What else do you need, baby?"