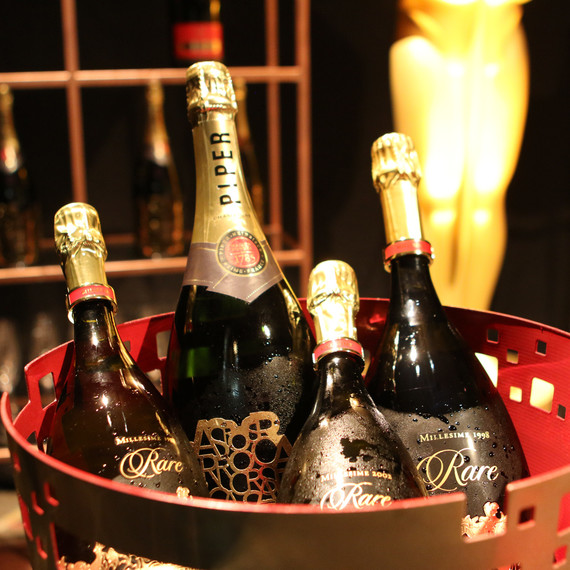 With the 89th Academy Awards this Sunday, everyone is eagerly waiting to see just how many wins 14-category nominee "La La Land" will be taking, or whether Meryl Streep's record-breaking 20th nomination for "Florence Foster Jenkins" will earn the actress her fourth Oscar.
(SERVE: these sophisticated sips and snacks at your Oscars party)
Oscars night is an evening of victories, losses, and gorgeous gowns, but another vital aspect of the event is food and drink. A peek at the menu for the Governor's Ball, the official Academy Awards after-party proves that, whatever the results in each category, everyone will be going home a (seriously well-fed) winner by the time the festivities are over. For the twenty second-year in a row, celebrity chef Wolfgang Puck is catering the ball. It's a lavish, seated dinner for 1,050 that takes place in the ballroom of the Dolby Theater. His impressive grocery list includes:
• 30 pounds of edible gold dust to sprinkle on truffled popcorn
• 22 pounds of American farm-raised caviar, a lot of which will be served atop baked potatoes
• 15 pounds of winter black truffles for spiced gougeres and his famed chicken pot pies 
• 250 Maine lobsters for lobster corn dogs
Yes there are vegetables too, including:
• 75 pounds of artichokes
• 350 heads of cauliflower
And for dessert:
• 20 gallons of housemade gelato and 12 gallons of homemade sorbet 
• 1,050 handmade waffle cones
• 1,000 assorted artisanal chocolate bonbons
• 7,000 mini chocolate Oscars -- so that nobody ends the night entirely Oscar-less
(MIX: a classic cocktail or two for Oscars watching)
As for the drinks, there will be a range of Champagne and wines provided by Piper Heidsieck and Francis Ford Coppola Winery. And when we say range, we mean 1,400-bottles -- that's 12,000 glasses -- of Champagne, plus 2,200 bottles aka 10,000 glasses of California wine.

We're glad to hear that locally sourced ingredients and sustainable seafood will be used wherever possible and that all unused prepared foods will be donated to Chefs to End Hunger. And while we can't predict which nominees will be going home with Oscars this year, we are willing to bet it all on one thing: if there was an Academy Award for best post-Oscars smorgasbord, Wolfgang Puck would be a shoe-in.