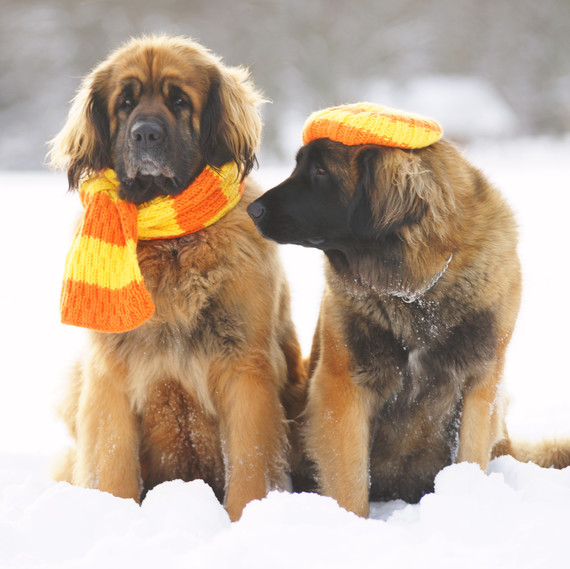 Take notes from Scotland: volunteers at the Scottish SPCA centers in Inverness and Caithness are knitting jumpers, sweaters, and hatwear for dogs up for adoption.
Aside from catching a cold while the dogs await their forever homes, why would they need sweaters? The knitting efforts have a lot to do with shelters throughout the areas having difficulty adopting out dark-coated canines. This has been an ongoing issue for years and is often referred to as, "Black Dog Syndrome."
Originally reported by the BBC News, Scottish animal charities have discovered that darker-coated dogs do not appear as photogenic in their adoption photos opposed to the lighter fur pups. For some reason, the darker dogs are usually the last to leave the shelters opposed to their lighter coated canine shelter companions which are both discriminatory and sad to learn. However, colorful knitting efforts are assisting the darker issue at hand.
[EXCLUSIVE INTERVIEW: 5 Questions for Pet Knitwear Designer Debbie Bliss]
Knitting vibrant sweaters for these animals isn't only a compassionate gesture, but a serious effort to draw attention to the unwanted shelter dogs. In fact, certain groups in Scotland such as the recently turned 100-year-old Scottish Women's Institute group have been knitting sweaters for shelter dogs for years. Lately, they have been leading the dog sweater knitting pack. "Some of Scotland's top craftswomen are making multi-colored dog coats in aid of homeless pets desperately seeking loving new homes to boost their appeal and help them become rehomed more quickly," said SWI chairwomen, Christine Hutton.
Animal Charity, SSPCA (Scottish Society for Prevention of Cruelty to Animals) superintendent, Sharon Comerie spoke of the shelter dog knitting efforts, saying, "It's a really creative idea to knit colored jackets to show these dogs off to their best advantage." She continued to say, "Knitted jackets will be ideal because they will be soft on the skin, have an element of giving and stretch, and can be created in any, or many, colors of wool."
No matter the dog's fur color or thread count of his newly knitted sweater shouldn't matter as every dog deserves a loving and forever home. In the mean time, these sweaters should help with that.
If you ask us, we think this is a great cause. And we're dog-lovers too! Watch what happened when our MSLO staff celebrated National Dress Up Your Pet Day: