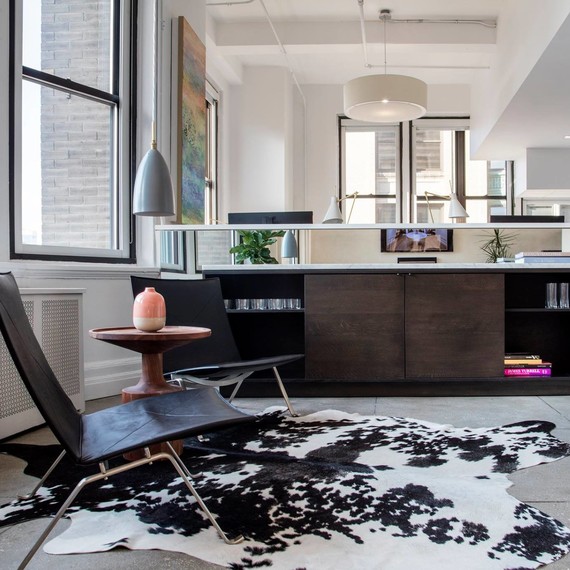 In the market for a new lamp? You could go with a plain, old-fashioned fixture, or you could opt for a multipurpose smart light to boost the IQ of your home. There are a variety of app-controlled lights available, from light bulbs designed to help you fall asleep to lamps that sync up with the movies you're watching. 
Regardless of which product piques your interest, there's one thing that's for sure: Lamps do much more than provide light these days!
Ketra 
Ketra may look like another fancy bulb, but the technology behind this smart light is pretty unbelievable. The company's LED lighting systems use WiFi to sync up with your internal body clock and adjust themselves throughout the day. By matching natural light patterns, Ketra can improve productivity and positively impact your health.
Ketra was initially used in many commercial spaces, but the company has recently expanded into residential products, as well.
Nanoleaf Aurora
If you're looking for a lighting system that does double duty as wall art, then Nanoleaf's Aurora lighting system is perfect. The system's triangular modules can be arranged in an infinite number of geometric designs, and through its app, you can change the color of each panel to create vibrant wall displays.
Philips Hue
Philips Hue offers smart lighting in every form you could ever need. There are light bulbs for white or colored ambiance, as well as light strips and side table lamps. When your home is decked out with these smart lights, you can change the vibe of any room to suit your needs with a touch of the app. You can even sync the lights to your TV and let them automatically adjust for an optimal movie-watching experience. 
Fluxo
Have you ever wished you could get stronger task lighting in one area without bringing over another lamp? Or that you could have indirect light in a room instead of harsh, glaring illumination? 
Both those things (and more) are possible with Fluxo, a hanging fixture that lets you adjust the direction of its light. Using the Fluxo app, you can light up or dim certain parts of a room, or even direct the illumination upward for gentle, diffused light. 
Holi SleepCompanion
Holi offers several useful smart lights, including the SleepCompanion light bulb, which mimics the sun's natural light to help you fall asleep faster and wake up easier. The bulb projects cool blue light in the morning to lull you out of your sleep, and at night, it dims to a reddish hue to encourage melanin production and help you doze off.