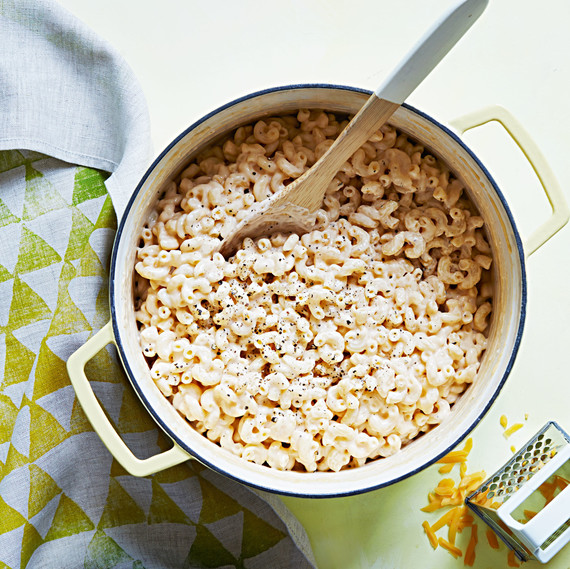 Rich, creamy, and just about impossible to resist, this childhood favorite graduates to grown-up status with our quick yet elegant recipe. The secret is a blend of three cheeses, plus mustard powder for a subtle kick. We've dreamed up two delicious variations, too, so you can get creative with your winter carbo-loading.
Grocery List
Short pasta
Unsalted butter
Unbleached all-purpose flower
Mustard powder
Whole milk
American cheese
Sharp cheddar
Parmesan
Get the Test Kitchen's Favorite Mac and Cheese Recipe
Essential Tools
Medium heavy pot: Minimize cleanup by choosing a medium pot to cook your pasta and make your sauce. Mac and cheese can definitely be a one-pot meal.
Box grater: Grate the cheese by hand! Pre-packaged cheese lacks the flavor of the real thing and often has stabilizers and additives. Grate cheese on the medium (not large) holes for easiest melting.
Colander: For straining the pasta.
Whisk: For making a proper roux and ensuring a creamy sauce.
Large spoon: For mixing in the pasta and evenly coating.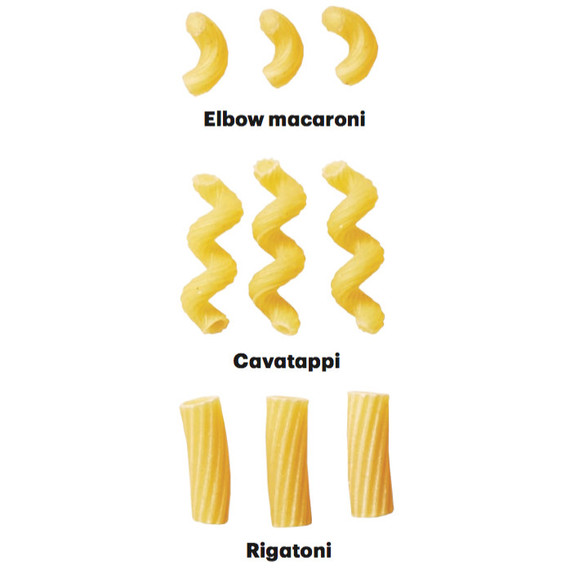 1. Cook Pasta
Prepare 1 pound short pasta in a medium pot of boiling salted water until al dente, about 2 minutes less than per package instructions. Drain, reserving 1 cup pasta water (which you can use later—see The Magic of Pasta Water, below).
Pick a Noodle
Choose a small shape with ridges or curves that the cheese sauce can cling to.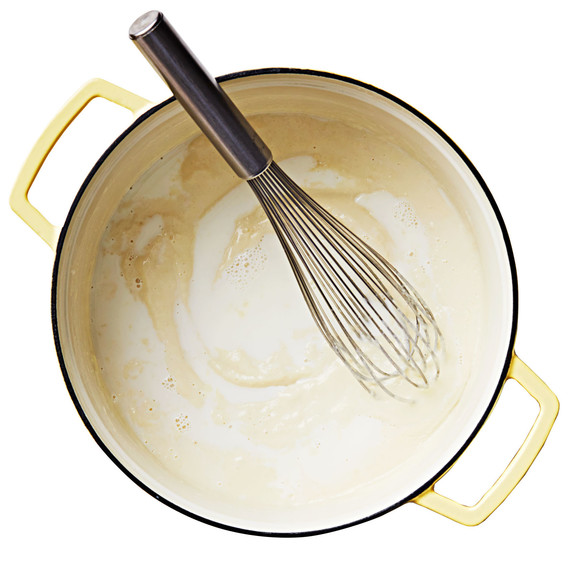 2. Make a Bechamel
Return empty pot to medium heat; add 3 tablespoons butter. When butter melts and foams, add 1/4 cup flour and whisk until darkened slightly, 1 to 2 minutes. Add 2 teaspoons mustard powder; whisk to combine. Slowly whisk in 3 cups warm whole milk. Bring to a boil, then reduce heat to medium and cook, stirring often, until thick enough to coat the back of a spoon, 3 to 4 minutes.
Keep It Smooth
To prevent clumps, warm the milk in a saucepan or microwave before adding it to the roux.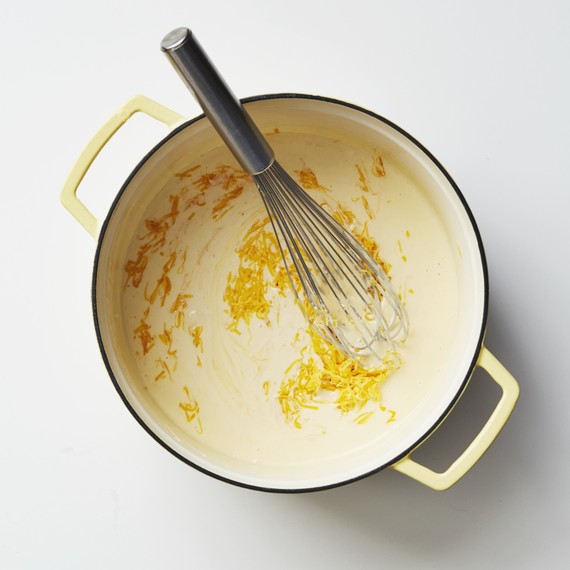 3. Melt the Cheese
Reduce heat to low and add cheese in 3 batches, starting with 1 cup (4 ounces) chopped American. Follow with 2 cups (8 ounces) grated sharp cheddar and 1 cup (2 ounces) grated Parmesan. Whisk to fully combine after adding each cheese. Season with 1/2 teaspoon kosher salt and 1/4 teaspoon freshly ground pepper. Add pasta, stir to coat, and serve.
Get the Test Kitchen's Favorite Mac and Cheese Recipe
Blend Well
Each cheese plays a crucial role in this dish's flavor and texture. For easier grating, put the blocks of cheddar and Parmesan in the freezer for five minutes first.
The Magic of Pasta Water
As mac and cheese cools, the sauce tightens and loses some of its creaminess. But if you don't serve it right away, no worries—just place the pot over a low flame, and stir in reserved pasta water, a few tablespoons at a time, to loosen the sauce without diluting the rich flavor.
2 More Marvelous Mac and Cheese Recipes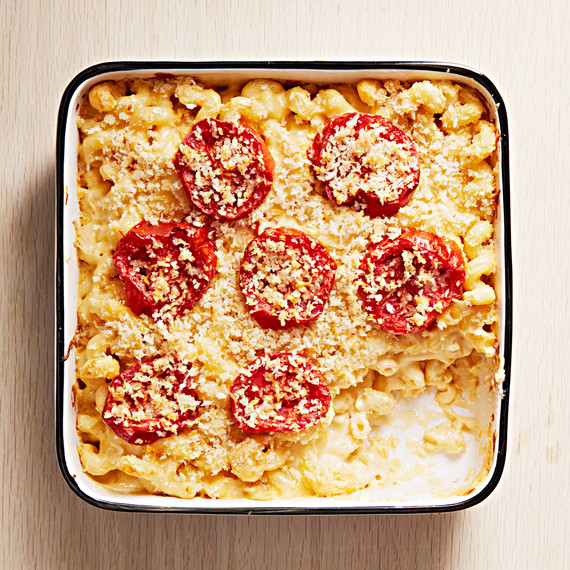 Baked Mac and Cheese with Broiled Tomatoes
For this remix of the beloved tomato soup and grilled cheese combo, slice 3 Roma tomatoes into thick rounds, drizzle with extra-virgin olive oil, and season with salt and freshly ground pepper. Broil until tomatoes start to brown, about 8 minutes; let cool slightly. Prepare 12 ounces cavatappi per step 1; toss with cheese sauce from step 3 and 1/4 cup pasta water. Transfer to an 8-inch baking dish. In a bowl, mix 1 cup panko with 2 tablespoons melted butter and 1/4 cup each grated Parmesan and cheddar. Top pasta with broiled tomatoes and panko mixture. Bake at 350 degrees until bubbly, about 30 minutes.
Get the Baked Mac and Cheese with Broiled Tomatoes Recipe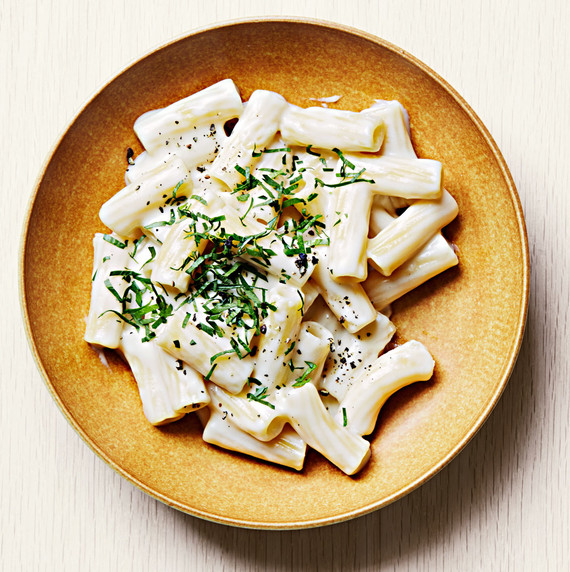 Swiss-Fondue Mac and Cheese
Take a quick trip to the Alps. Prepare 1 pound rigatoni, and replace 1/4 cup of the whole milk with dry vermouth. In step 3, use these cheeses: 1/2 cup (2 ounces) finely chopped Raclette, 2 cups (8 ounces) grated Gruyere, and 2 cups (4 ounces) grated Emmentaler. Sprinkle with chopped flat-leaf parsley; serve.
Get the Swiss-Fondue Mac and Cheese Recipe
Watch Everyday Food host Sarah Carey whip up the test kitchen's favorite mac and cheese: