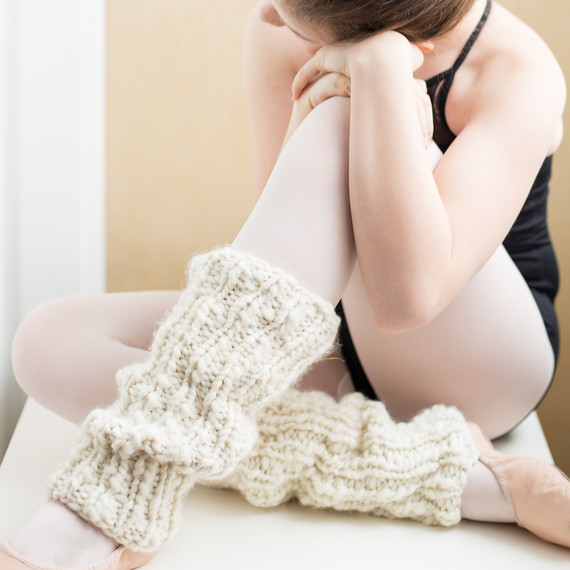 Keep cozy and happy all winter long with these chunky knit leg warmers snug around your legs. Leg warmers are great for dancers, without a doubt. There's something about thick white wool against delicate ballet pink, and the porcelain look of a dancer's limbs that makes my heart sing. However, wear these leg warmers for a lot more than dancing. They are lovely with a dress, a skirt, or even your favorite skinny jeans!
This knit leg warmers pattern includes six sizes, all designed to use 100 yards of gorgeous super bulky wool. The pattern is great for beginners who have just learned how to knit.
[LEARN: How to Knit]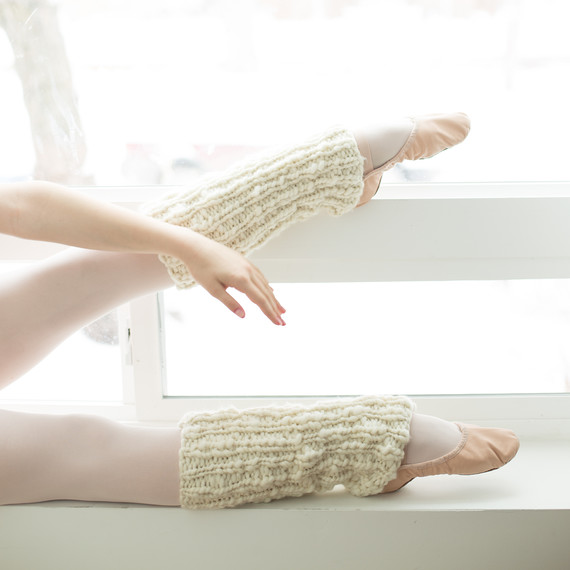 I used Knit Collage Spun Cloud in French Vanilla for the knit leg warmers. This yarn is 100% wool with 2 skinny strands of sparkly lurex plied around it in a subtle thick and thin texture. The yarn holds the perfect amount of shine. Knit the leg warmers flat, no shaping, in just a few hours, then seam them up at the end. This way, beginners feel comfortable. But, certainly, knitting these in the round would be a great way to skip that bothersome finishing that knitters tend to avoid.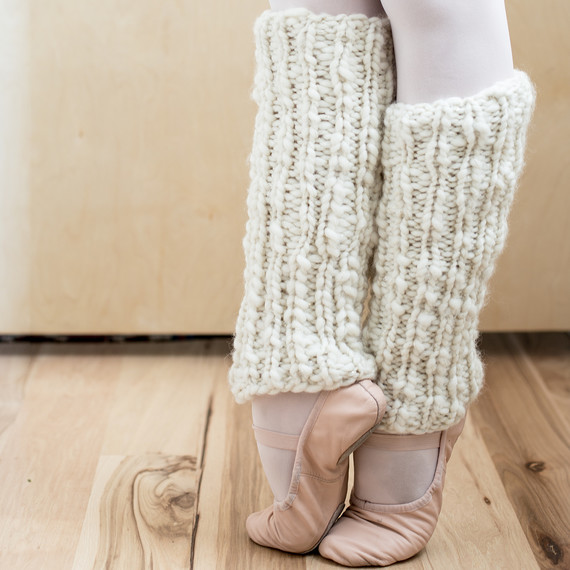 Materials
Yarn: Knit Collage Spun Cloud in French Vanilla (100% wool; 100 yards, 200g), 1 skein (For a replacement, look for 100 yards of a large super bulky yarn, something that gets 1.5 to 2.0 stitches to the inch in stockinette stitch)
US 11 (8 mm) needles or (size needed to obtain gauge)
Darning Needle
Gauge
10 stitches and 15.5 rows to 4" in Knit 1, Purl 1 Rib Pattern on US 11 needles
Sizes & Measurements
Size Options: Youth (XS, S, M, L, XL)
Diameter 11.5" (12", 13", 13.5", 14.5", 15")
Length 13.5"(12.5", 11.5", 11", 10.5", 10")
[OUR GUIDE: How to Choose the Perfect Yarn for Your Knitting Project]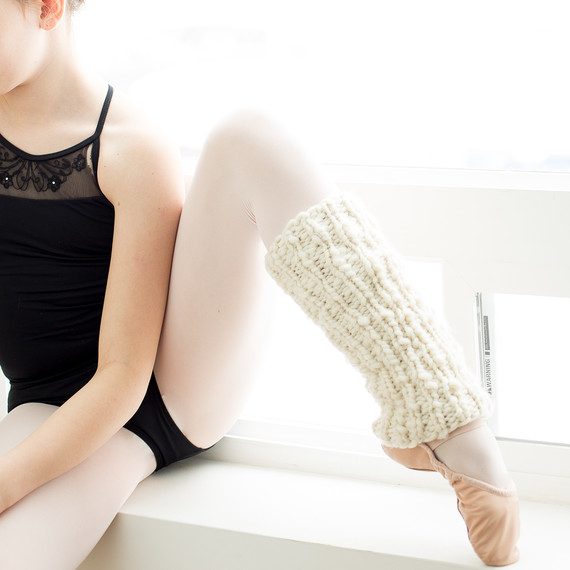 Pattern
Cast on 28 (30, 32, 34, 36, 38) stitches.
Row 1: *(Knit 1, Purl 1) Repeat from * across row.
Repeat ribbing pattern for every row until piece measures approximately 13.5"(12.5", 11.5", 11", 10.5", 10") or desired length.
Bind off. Seam two sides together with the mattress stitch. Weave in all ends.
NOTE: Consider splitting the skein in advance, by weight (use a postal scale to split the weight of your skein in half) or by measurement (with yard stick or measuring tape). That way, your leg warmers will end up of equal size, even if the gauge wasn't measured quite right, or if you're knitting off-gauge.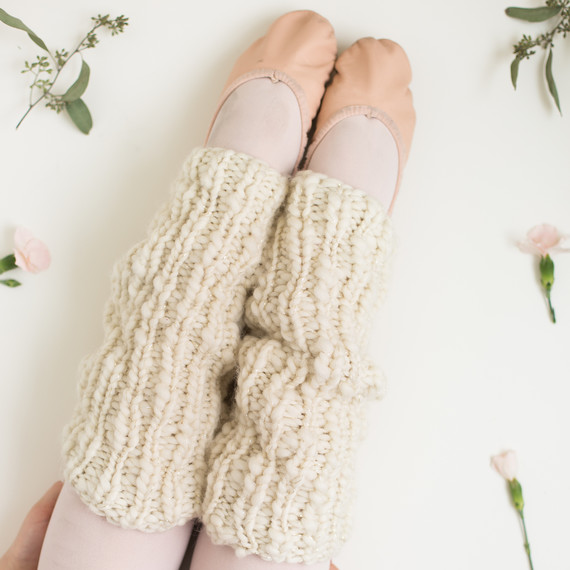 Knit up a pair of these in a jiffy, and you're sure to stay warm and cozy this winter!