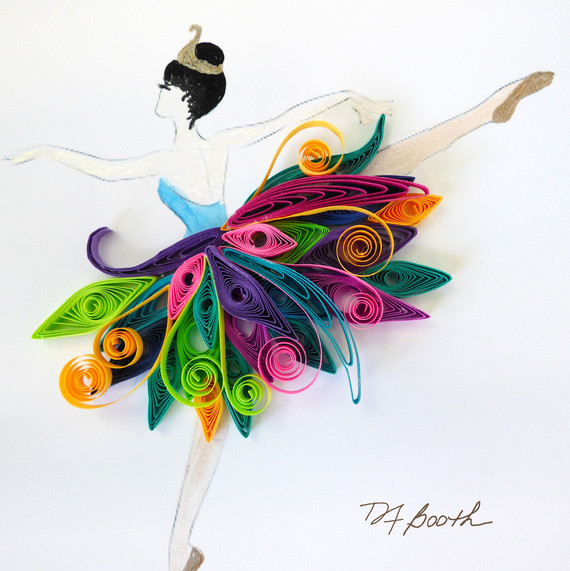 Sometimes, learning a new artistic hobby takes a lot of browsing and soul-searching. Other times, your eye immediately catches just the thing you were looking for — as was the case for Deb Booth of Different Light Studio, who discovered the art of "quilling" during a peruse of Pinterest.
For those of you who are unfamilar with the art of quilling, Booth was happy to share her explanation. "Quilling," she told us, "is an ancient art involving the forming of thin paper strips into various shapes, whirls and twirls, and gluing them to a backing of some sort." In her case, these backings are pictures of dancers that are digitally altered and then painted with watercolors. 
[LEARN THE TECHNIQUE: How to Make Quilled Cards]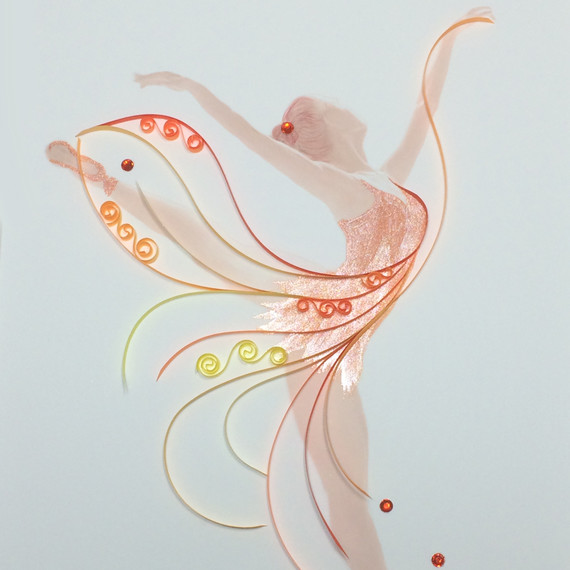 After a single dancer is complete, Booth begins quilling paper for the leotard and tutu, in an effort to mimic the movement behind the picture. Her goal is to create a three-dimensional effect, which could easily be a piece of art on its own without the backing — and we think she has definitely succeeded.
[SEE THIS: Someone Recreated "The Starry Night" With Quilled Paper]
When we asked Booth what inspired her "Tiny Dancers" art collection, she told us it was because she has "long been drawn to the fluid, graceful, *strong* bodies of dancers." Evidently, others were drawn to the dancers as well — soon after Booth posted pictures of them on her Facebook page, the custom orders started coming in. Last year, after the success of her work on Facebook, Booth was asked to create an exhibit of her "Tiny Dancers," where her artwork went from 8x10 to 30x40, with her dancers leaping across the walls.
One thing that Booth believes is important for everyone to remember, "is to allow yourself the joy of creating, and not focus so much on the outcome." You might not become the next Edgar Degas, but as long as you're having fun, that's all that matters.
Feeling inspired? In this video, Martha shows how you can quill some lovely fringed blossoms: