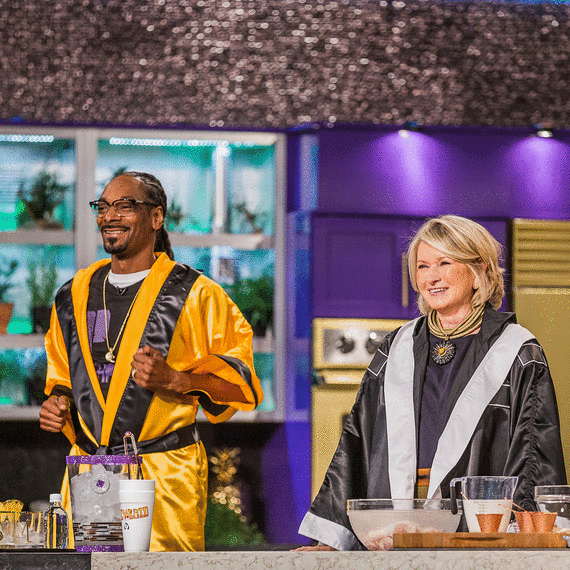 Martha Stewart and Snoop Dogg are back and better than ever. Last night we watched and loved two episodes of "Martha & Snoop's Potluck Dinner Party." One episode was dedicated to all things sushi and one was about football food. From their drinking habits to their shared sense of humor, here is what we learned:
1. Both like Japanese food
While getting ready to prepare spicy sashimi (Martha) and a California hand roll (Snoop), the pair discussed their favorite aspects of Japanese culture. "They got Geisha girls [and] Hello Kitty," exclaimed Snoop before Martha chimed in "... and sushi! In the words of [rapper] Ol' Dirty Bastard: 'I like it raw.'"
(MAKE: if you like Japanese food, try these recipes)
2. Size doesn't really matter
The duo showed off their chefs' knives: "It's not [about] the size," said Martha in response to Snoop having larger knives. "It's [about] how you use it."
3. They can drink
In true Japanese fashion, the pair kicked off the episode by taking down a few shots of cold sake. "He's a dripper," Martha joked as Snoop took a sip of sake and commented that it tasted "like rubbing alcohol."
4. Their chopstick skills differ
Kathy Griffin was their first guest and she brought children's chopsticks for herself and Snoop. "Martha doesn't need it," she said. We agree.
5. Martha does something that reminds Snoop of his mom!
When opening a sea urchin Martha whipped out a very peculiar looking tool. Snoop's reaction? "My mama used to cut my toe nails with something like that!"
6. They're both into smoking ... sort of
Martha invited chef Hiroki to help her smoke the dish she was preparing. Snoop's excitement at the sight of smoke was palpable, especially as he took out his phone to take a video of the event.
7. Martha can handle her liquor
"I found out that if you drink a lot of sake with a lot of beer, you don't get drunk," said Martha to a stunned audience. Without missing a beat, Griffin exclaimed: "Get Martha Stewart a six pack [...] right now!"
8. Snoop and Griffin have been friends for quite some time ...
Reminiscing about when they first met, Griffin recalled hosting the Billboard Awards and looking for "someone to make out with [as part of] a bit." Walking into Snoop's room and going "through a lot of air swimming," she asked him if he was game. Indeed, he was. Months later, she was asked to be part of Eminem's music video for "The Real Slim Shady." Eventually she asked director Dr. Dre what made him think of her and Dre responded: "Snoop said you're funny."
9. And so have Snoop and Track Kitchen
In the second episode of the night, Track Kitchen joined the duo to prepare football-inspired dishes. While prepping, Track Kitchen reminsced about his first meeting with Snoop: "I was going through my Twitter feed and they were all ads and I clicked on videos and there was a video of Snoop." The audience got to see that video as well.
(GET: Martha's Super Bowl menu)
10. Snoop might have not gone to college to preserve his liver
A football themed episode calls for a keg. After drinking a whole lot of beer from it, Snoop looked directly into the camera and said: "And that's why I didn't go to college."
11. The duo can deliver a joke
Martha, Snoop, and Track Kitchen prepared delicious looking pineapple bowls with dark meat. "Why [don't] you use white meat?" asked Snoop. "White meat matters too!," he joked.
12. Their all-star teams include Mark Zuckerberg and Rihanna
The pair ended the episode playing a game that required them to "pick out a life squad." Martha's first team member? Facebook owner Mark Zuckerberg ("He's so rich he's always going to take care [of everything."). Snoop proceeded by picking "the lovely" Rihanna while Martha selected Justin Bieber. Snoop's reaction to the latter choice? "Y'all gonna be in jail in the first two months that you hang out [with Bieber] and Zuckerberg is going to [gather] all his money to bail y'all out!" The rapper then chose Will Smith as his running mate while Martha opted for Kerry Washington. Snoop's last pick was "socially and politically correct," he said while choosing Bernie Sanders -- "because white lives matter!"
In case you missed it, here's Martha and Mike Epps smoking it up: