The Guest List
Consider the age range of who you're planning to invite, your space and your budget first. For younger children, crafting parties work best when they're on the smaller side and when you have at least one adult for every two or three crafters. You'll also need to think about the size of the space where you want to have the party. Ideally, you should enough room so that every mini-crafter has enough room to comfortably spread out materials, make valentines, and in many cases, make a mess too. For your budget, you'll need to factor in the cost of the materials, plus food and drinks for party guests and adult helpers.
The Invitations
Once you've settled on your guest list, hand out valentine-themed invitations inspired by paper-folded envelope hearts to get your guests excited about what they can expect at the party.
[DIY: Folding Envelope Hearts]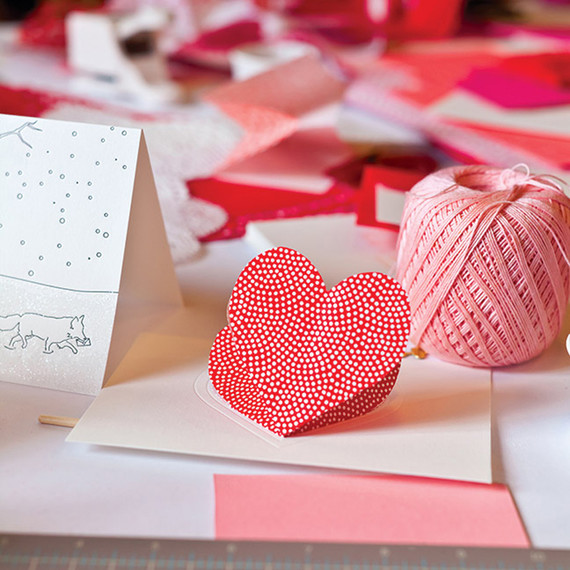 Supplies
While the specific supplies you'll need will vary based on the crafts that you select, in general, you'll likely need the following:
Age-appropriate scissors

Heart cut-outs in various sizes that can serve as templates

White and colored paper and card stock

Crayons, colored pencils and markers

Washable paint and paintbrushes

Glue or glue sticks

Tape
It's a good idea to ask guests to bring their own scissors and glue sticks so that you don't get stuck with too many of these after the party!
Party Decor
Decorate your space with valentine-themed decorations to help get your guests in the festive spirit once they arrive. Your decorations can be as simple as paper hearts in various sizes hung around the room or even this fun and easy heart garland.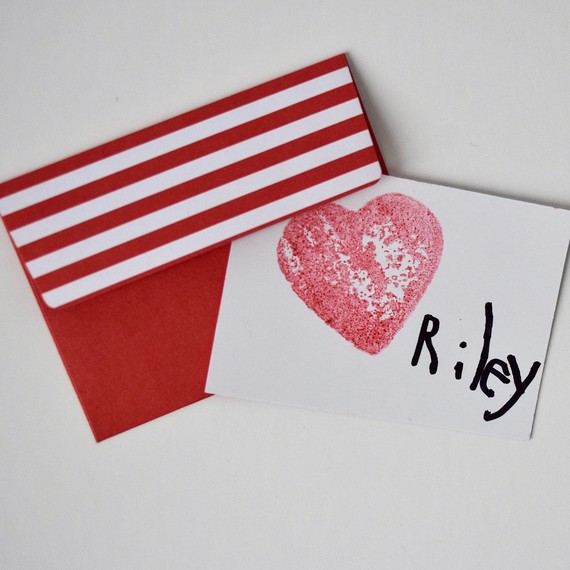 Craft Ideas
When it comes to selecting which Valentine's Day themed crafts your little guests will do, again, it's best to focus on the age range of the group. Select simpler projects for younger children that only involve a few steps and easy materials to work with. For older children, you can select more difficult projects that they can work on fairly autonomously until it's time for an adult to handle the glue gun, iron or very sharp objects. You should also think about the cost of materials. If you're making multiple crafts, try to select ones that use the same materials, but in different ways each time.
Here are a few of my favorite valentine-making crafts for kids, along with suggested ages:
Ages 3+
Potato-Stamped Valentines (pictured above)
Adult helpers can prep for this craft before your guests arrive by slicing a potato crosswise in one-inch wide sections. Then, use heart-shaped cookie cutters to cut out hearts to use as stamps. Your mini-crafters can use ink pads or paint to make the heart prints on white card stock.
Ages 5+
Ages 7+
Ages 9+
The Set-Up
One great way to manage the mini-crafters (and keep the adult helpers happy too) is to set up crafting stations, with no more than four guests per station. You can have multiple stations with the same crafts at each one or you can select a different craft for each station and have the guests rotate among them. Adult helpers can make the process easier by providing samples of finished valentines at each station and pre-cutting materials for younger guests. You can also designate one area as a free form station, where you only provide the basic materials and let the crafters come up with their own ideas for different designs.
The Snacks
What's a party without great food? And what's great food at a valentine-making party if it doesn't involve hearts (and lots of them)?!
No matter what you put on the menu, remember to keep the food in a separate area from your crafting space to help your mini-crafters keep spills and food stains away from their valentines.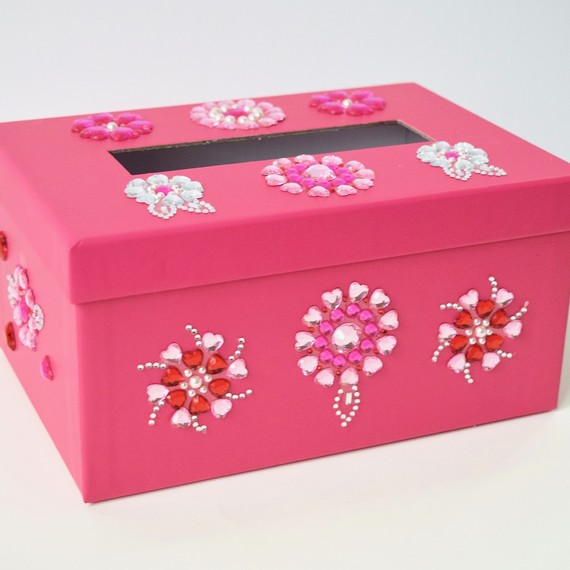 Valentine Card Exchange Boxes
Ask guests to bring a shoe box that they can decorate and cut a drop slot in to exchange valentines at the end of the party. They can use paint, stickers or any other materials from the party to make it uniquely their own. Let parents know that they can also purchase a box especially designed for valentine exchanges (like I did!) from a craft store. My 4-year-old daughter loved the hot pink color of the box above, and we took turns adding the peel-off bling. Super easy!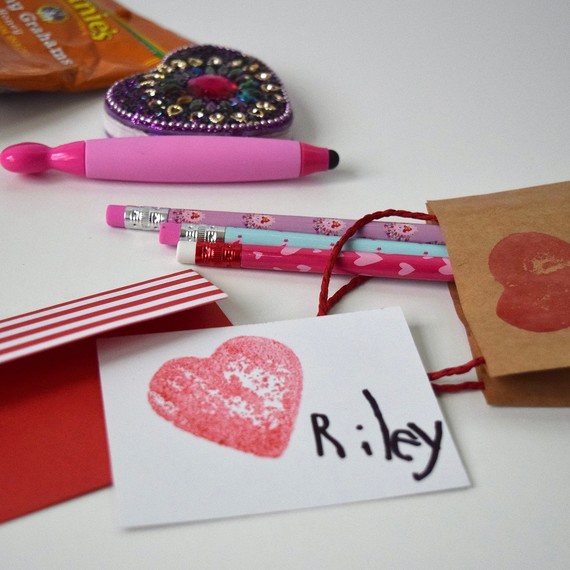 Treat Bags
Don't forget to send your guests off with a valentine-themed treat bag to thank them for attending. We made ours using mini kraft bags, potato stamps and paper rope handles. Not crazy about giving away candy in your treat bags? No problem! Here's a list of some sure-to-please alternatives:
Bouncy balls

Bubble wands

Costume jewelry (bracelets, necklaces, rings)

Glow sticks

Erasers

Healthy snacks

Notepads

Pencils

Play-doh

Rings

Silly straws

Small toys (e.g., character figurines)

Stickers

Stylus
Below, watch how to make Valentine's Day treat bags: