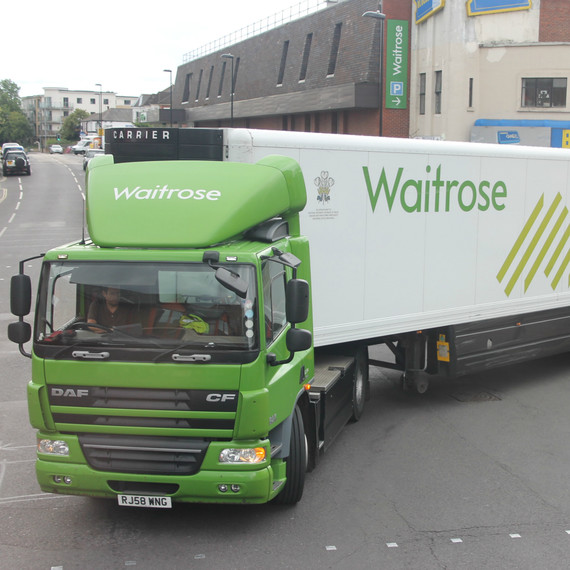 The idea of converting food scraps into car fuel is one that has proven successful in the U.S. thanks to the efforts of companies like Summit Foods, but British supermarket chain, Waitrose, is taking the innovative energy concept across the pond. After teaming up with CNG Fuels, a supplier of renewable biomethane gas, Waitrose has become the first company in Europe to operate trucks fueled entirely by gas made with rotting vegetable matter and food scraps.
Waitrose has been a leader in green grocery practices for a while, and was actually named the most environmentally-friendly supermarket back in 2006 by the UK's National Consumer Council. (And that was before the grocery chain started reusing pasta scraps to create the packages for pasta.) And while the switch to the fuel is, of course, driven first and foremost by a desire to switch to eco-friendly alternatives to diesel, it also has other benefits.
(COOK: our waste-free leftover recipes, they're delicious)
First, the trucks can travel up to 500 miles on the biomethane gas; almost double the current average for renewable fuel. The fuel is also 35-40 percent cheaper than diesel and cuts carbon dioxide emissions by 70 percent, meaning that it would take about five CNG trucks to produce the same emissions as a single diesel truck. The biomethane gas also comes with the added perks of quieter trucks and faster refueling.
The supermarket chain has started its new fleet of eco-friendly delivery lorries with ten trucks making store deliveries around the Midlands and the North of England. And while each truck cost more in upfront capital than the usual fleet -- about 50% more, to be exact -- the estimate is that each truck will save around £20,000 (about $25,000) in fuel costs over the next three years, making the CNG trucks a smart investment in the long run.
(CUT BACK: on food waste at home with this handy fridge cam)