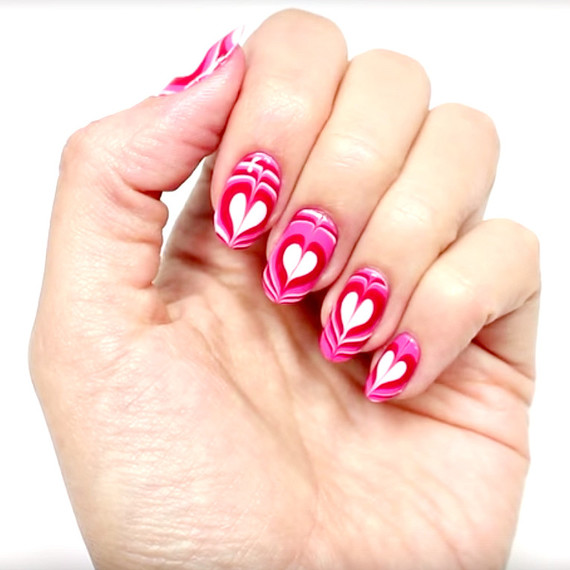 Nothing puts us in romantic mood more than treating ourselves to a quick mani — it's not breaking the bank and it serves as a small confidence boost. This year, skip the salon appointment and put your creative skills at work with this beautiful marbleized heart-inspired nail art tutorial.
It's actually not that difficult to DIY, and it looks absolutely stunning on your nails. Here's what you need: white, red, pink, and light pink nail polish, a few toothpicks, a cuticle pusher or 100 percent acetone, and your favorite brand of base and top coat. To start off, apply the base coat and after it dries out some white nail polish for your base color. Next, mix the red, light pink, and pink nail polish into a small bottle cap full with room temperature water. The artist in the video says that filter water tends to work best, but tap is fine too.
[BEAUTY: Our Best DIY Manicure and Pedicure Tips]
Then, use a toothpick to carefully drag the polish down the center to form a cute heart and eave it to dry in the cap for one to two hours. This will basically create a decal. Then detach the nail polish from the cap using the toothpick and carefully remove it with tweezers. Next, apply your top coat onto the white nail polish and gently press your decal on the nail. Use a cuticle pusher to adjust it on the nail and remove the excess nail polish. You can just file off the excess on the tip of the nail. Finally, apply another layer of top coat et voilà.
Happy Valentine's Day!