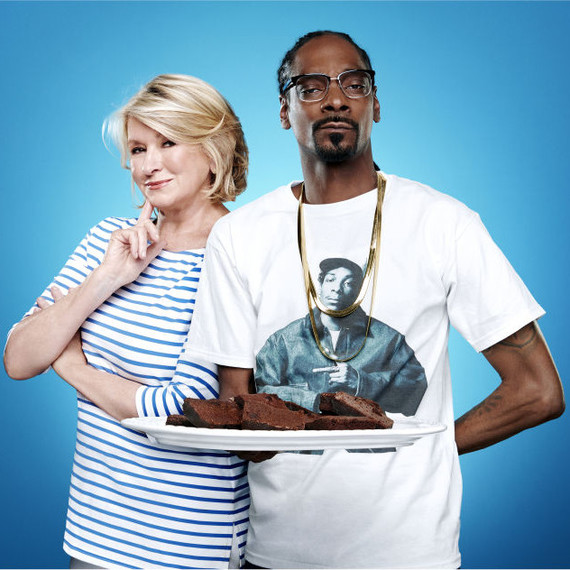 The wait is finally over -- "Martha & Snoop's Potluck Dinner Party" is back today, February 13th with a super-sized episode. You know how TV shows usually open with a "previously on…" montage when they return from hiatus? Cooking shows don't have that, so in case you need a refresher on the first five episodes of "Martha & Snoop's Potluck Dinner Party," we've got you covered with our favorite clips. Our major takeaways? Martha and Snoop's chemistry is not a fluke, Martha is an incredible teacher in any medium, and guests simply love flirting with her. No wonder the show was picked up for a second season!
"Putting the Pot in Potluck"
Martha and Snoop kick off the series premiere with a fried chicken battle and enlist Seth Rogen and Wiz Khalifa as their sous chefs. Need we say more?
"Keep Your Claws Off Me"
Two words: Rick Ross. The rapper only has eyes (and sweet nothings!) for Martha at the clambake.
"Ruffling Feathers"
It's the Thanksgiving episode, and Martha's grateful for Snoop's friendship. We loved watching her recount how the whole thing started.
"Bringing Home the Bacon"
It's a breakfast-for-dinner pajama party, and singer Robin Thicke turns up the heat with Martha in the kitchen.
"Deck the Balls"
The balls in question are the cream puffs in Martha's croquembouche, which she teaches Jason Derulo how to pipe. Innuendos abound!