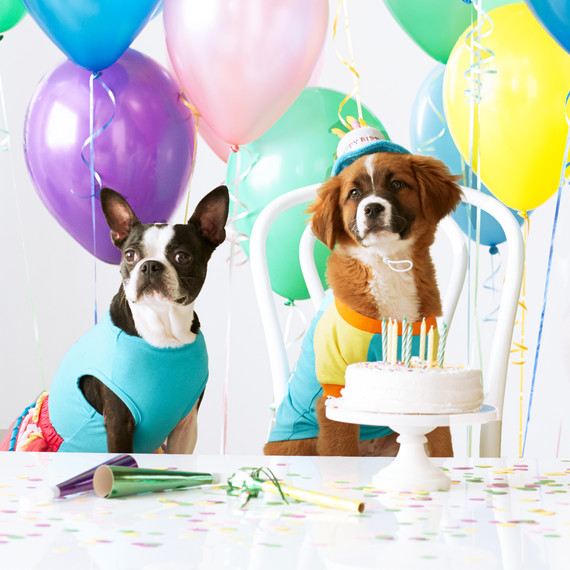 On a Sunday afternoon at Urban Air Trampoline Park in Waco, Texas, Sterlin Harmon invited all of his friends to celebrate his eighth birthday. There was cake, games, and something extra special.
It was Sterlin's wish to share his celebratory afternoon with local dogs from The Humane Society of Central Texas. Sterlin's mother, Tara Simons wasn't too surprised at her son's compassionate idea to have an adopt-a-dog-birthday party as she told kwtx.com, "Kids want to play with toys, watch cartoons and play with their friends. Sterlin would rather be with animals. He loves them, wants to hang out with them and be their best friend."
[HOW: To Keep Your Pets Safe This Summer]
Instead of gifts, Sterlin asked guests to donate food, toys, and blankets to the Humane Society. And the big success of the day? Five of the eight dogs at the party found fur-ever homes. "I'm really happy that some dogs get adopted," he said. "They'll finally have someone to play with."
[BUSTED: The 5 Myths About Babies and Pets You Shouldn't Believe]
If you're feeling extra inspired to help out a furry friend in need, consider supporting Monkey's House, a local nonprofit sanctuary for senior dogs battling health issues created by one animal-loving New Jersey couple. Or, borrow some artistic inspiration from fashion and portrait photographer, Richard Phibbs, who turned his lens to homeless canines in his beautiful book, "Rescue Me," which benefited the Humane Society of New York in hopes of housing the lovable animals. You could even throw a pajama party to help save the pups. Whatever you choose, we bet any dog would agree it'll be a dog-gone good idea.