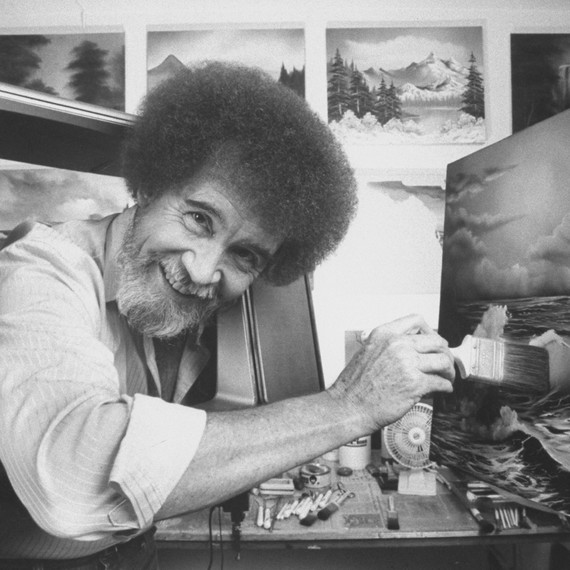 Remember watching Robert Norman Ross? In the '80s, he was better known as Bob Ross, the host of the long-running PBS series The Joy of Painting. And we loved watching him casually painting a sweeping landscape complete with snow-capped mountains, darling little deer frolicking through the woods, and "happy little trees." 
But longtime fan Chris Nervegna of New Jersey, decided to throw himself a Bob Ross themed painting party for his birthday — much to the delight of the internet.
HAD A BOB ROSS PAINTING PARTY FOR MY BIRTHDAY.

LOVE. MY. FRIENDS.
BEST. DAY. EVER. pic.twitter.com/HWCR9oDZl1

— Chris Nervegna (@Brovegna) February 5, 2017

Together, he and his fellow Bob Ross painting-loving friends gathered for a little painting party. 
[TRY THIS: Take 30 Seconds to Watch These Relaxing Paint Videos]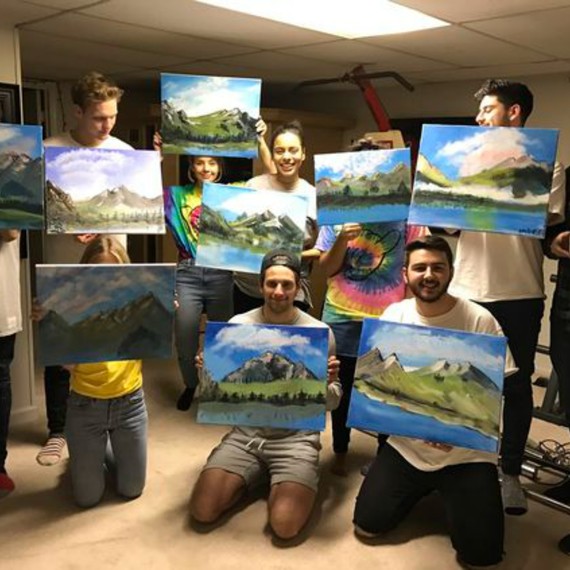 So what exactly does a Bob Ross painting party entail? Picture plenty of paper, paint, blank canvases, and a paint tube squeeze amount of Bob Ross imagination for everyone. The party concept is an easy one to pull off within itself. (That is, if capturing scenic nature scapes is your fortè and your friends can reciprocate in the same creativity department.) Along with Nervegana's viral tweet, other Bob Ross related images are popping up in comparison with his party and they're hard to miss. A small dog dressed as Bob Ross himself is one of those can't-miss-things or rather must-retweet-images.
In the end, the lucky-Bob Ross birthday recipient tweeted, " LOVE. MY. FRIENDS. BEST. DAY. EVER." So, what would Bob Ross himself have to say about this particular party if he was here today? Probably something like, "We artists are a different breed of people. We're a happy bunch."
Feeling inspired? You can personalize a bunch of party balloons with some paint: