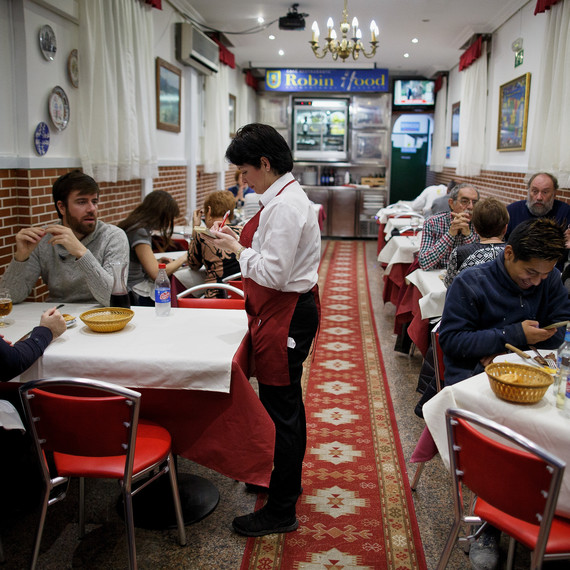 When it seems like the world could use a little more love, a restaurant in Madrid is serving just that for dinner.
Though just a couple of months old Robin Hood Restaurant is busy at breakfast and has quickly become one of Spain's most sought after lunch destinations. Celebrity chefs are lining up to cook, and reservations are booked through March. At night the eatery transforms; it becomes a welcoming diner for the homeless and meals are served entirely gratis.
(READ: about the restaurant coming to London that will challenge chefs and make diners think about food waste)
The do-good restaurant opened just last December thanks to local priest, Ángel Garcia Rodriguez. To most he is simply Padre Ángel."People with nothing can come and eat here in the restaurant and get the same treatment as everyone else," said the 80-year-old founder of local charity, Mensajeros de la Paz, or Messengers of Peace. "It's just common sense."
Thanks in part to the paying breakfast and lunch crowd, dinner guests can enjoy everything from from mushroom consommé with roast turkey and potatoes to pasta and cake. Guests are also free to bring in their own food and just drop in for the company.
(LEARN: why a food waste supermarket is a winning idea)
Though the country's recession still echoes with a near 20% unemployment rate, places like the Robin Hood help ease the pain even if only with a good meal. In two shifts, the restaurant feeds more than 100 patrons every night. Tables sport white linens, real glasses, and cutlery. "I want [guests] to eat with the same dignity as any other customer," says Padre Ángel. "And in an atmosphere of friendship and conversation."
When he's not at the restaurant, you might find Padre Ángel at an old church he's since converted into a 24-hour community center. Here, homeless visitors can find medical assistance, free coffee, or just somewhere to sleep. The center also serves morning meals to about 200 homeless people every day, many of whom will reunite with Padre Ángel for dinner at the friendly Robin Hood Restaurant.
If this story has you ready for some Spanish flavor, try this Skillet Paella with Shrimp and Tomatoes: