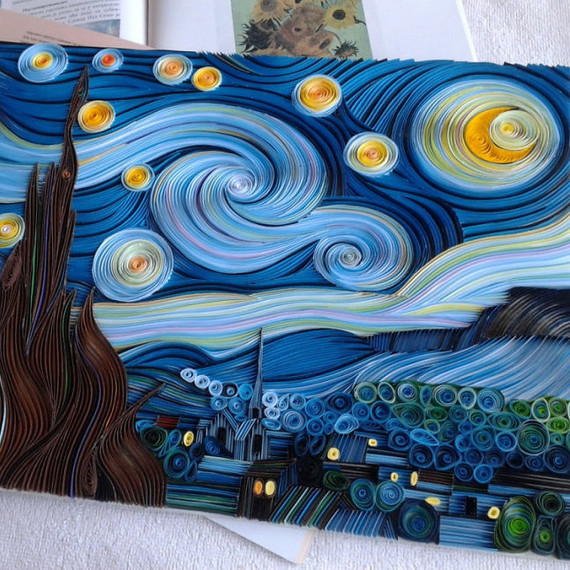 We've shown you more than a few recreations of Vincent van Gogh's famous "The Starry Night" oil painting using out-of-the-ordinary crafting techniques from needle-felted wool to ribbon embroidery. But one crafter has recreated the famous nightscape with the art of quilling.
Quilling, or paper filigree, is the art of creating decorative shapes from strips of paper. The technique is simple: Roll a long, narrow ribbon of paper around a needlelike tool, then slip off the strip, arrange into the desired shape, and then glue to a background of contrasting paper, fabric, or wood.
[DON'T MISS: Take a Closer Look at These Vivid Paintings — They're Embroidered!]
As for Rikic, her appreciation and keenness for the paper-based art form started with an origami book that she received from her father as a gift. "As time passed, I started exploring the magic of the paper," Rikic, recalls. "2D origami, 3D origami, kirigami, kusudama, paper sculptures, and eventually, I met quilling."
Her most popular art piece using the quilling technique is her rendition of "The Starry Night" where she captures the luminous painting's light and colors perfectly all with paper. After all, Van Gogh himself said, "I often think that the night is more alive and more richly colored than the day." The same statement can be applied to Rikic's version as it has no loss of rich colors, swirls, and the overall feeling of vibrancy.
Aside from renditions of famed paintings her quilling creations range from stunning portraits, world maps, as well as whimsical images and phrases such as one that scrawls, ''What a Wonderful World" accompanied by paper hot air balloons and trees tops. Crafters will take notice that as good as her designs are, they are extremely detailed and take diligence and time. "Some works I could do in a few days," she says, "but for the others, I needed a lot of time and patience." Time seems to be on her side as she has a vast collection of beautiful pictures constructed from paper. Someday, Rikic hopes to have enough artwork where she can have her own art exhibition.
Feeling inspired? Try making these cute valentines out of pipe-cleaners and paper: