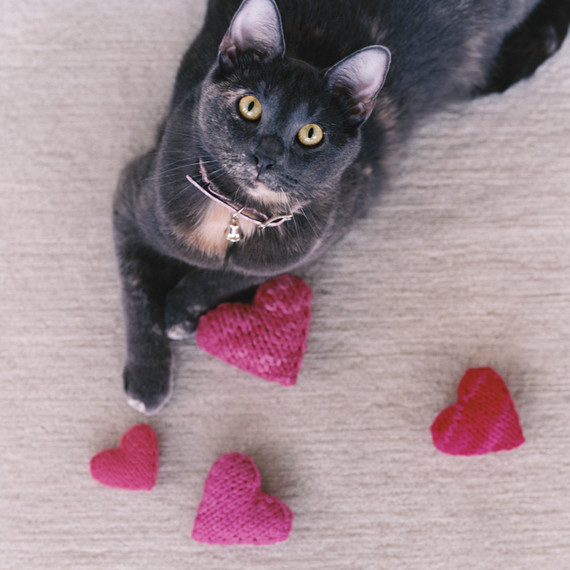 Even if you're spending Valentine's Day single... haven't you forgotten a certain furry valentine? Remember, you still have your cat or dog who will love you no matter what your relationship status happens to be.
According to updated statistics from the National Retail Federation, "ruff-ly" 19 percent of American consumers will buy their pet a treat or token of affection for the holiday. This totals to  about $681 million dollars on gifts for cats and dogs around the nation.
[DON'T MISS: 5 Dangers on Valentine's Day for a Pet (And How to Prevent Them)]
And if you happen to be among those Valentine's Day shoppers? There are several small ways to make sure Spot and Fluffy know you love them. You can give your kitten some 
Knitted Catnip Delight
! (Grab your red and pink yarn to knit the cutest little heart pillow for your pet they have ever seen.) Or make your pet a 
fun collar to wear
 around their neck throughout the day or the entire year! Or whip up some 
Homemade Dog Biscuits
 together. You can do the baking, and your pet can lick the spoon!
Whatever you decide, make sure to give some love to the real champions in the family who warm our hearts 365 days a year. If you don't have the time to sit at a table and bedazzle a new leash for your pet, swing by the grocery store and pick up a new bone or toy for them to play with during the day.
Our team loves pets. Watch what happened when we brought our beloved pups to work: