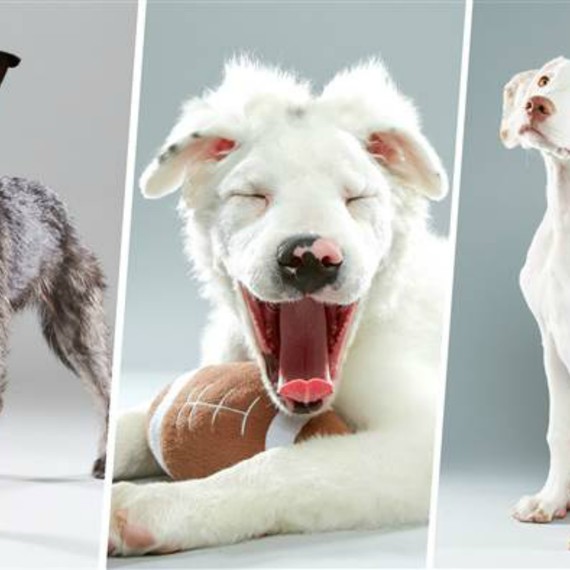 While the notion of Tail-Backs and Quater-Barks ruff-housing over the 20-yard the line seems like happy entertainment, there's a bigger message to Animal Planet's Puppy Bowl XIII as all of the animals in the bowl including three special needs dogs are up for adoption. For the past 13 years, it has been the underlying mission of the puppy fun and games to promote animal adoption from shelters around the country.
A few of the pups made a pre-game day appearance on the Today Show where it was made clear that the animals best interest are put first. "As always, Puppy Bowl XIII is aimed at promoting pet adoption. Seventy-eight pups from 34 animal shelters and rescue groups will play in this adorable pitting of Team Ruff against Team Fluff." This year, the first three special needs puppies named Doobert, Winston, and Lucky will be competing.
[YOU'LL LOVE: 9 Big Misconceptions About Adopting a Shelter Pet]
First, the Virginia-based animal shelter called, Green Dogs Unleashed who rescues disabled dogs is leading the dog-gone-do-good pact. The first of three special needs dogs in the Bowl is Doobert who is hearing impaired but a loving and lovable dog regardless. Accompanying Doobert are his other friends, Winston, a seeing-impaired pup from the shelter Double J Dog Ranch in Idaho. And last but not least in the lineup is Lucky, a three-legged canine from the Operation Education Rescue in Tennessee.
Aside from these pooches becoming instant Puppy Bowl superstars they have something even better to boast about: Each of the three disabled puppies have won themselves a loving home. Yes, they all have been adopted — touchdown! The host to the Puppy Bowl, Animal Planet calls the game, "The BIGGEST game in adoption." There you can view all the competing pup's profiles such as Alexander Hamilpup, Slippers, Stormy, Blitz, and other cute canines. Of course, one afternoon of competing puppies may not be enough action for true puppy fans. Therefore, Animal Planet also offers viewers to watch their Puppy Bowl Hall-of-Fame to ooh and ahh over puppies from years before.
Watch a sneak peak of this year's Puppy Bowl here. As for us, we're pawsitively excited:
Be sure to bring plenty of treats as Puppy Bowl XIII airs Super Bowl Sunday, February 5.