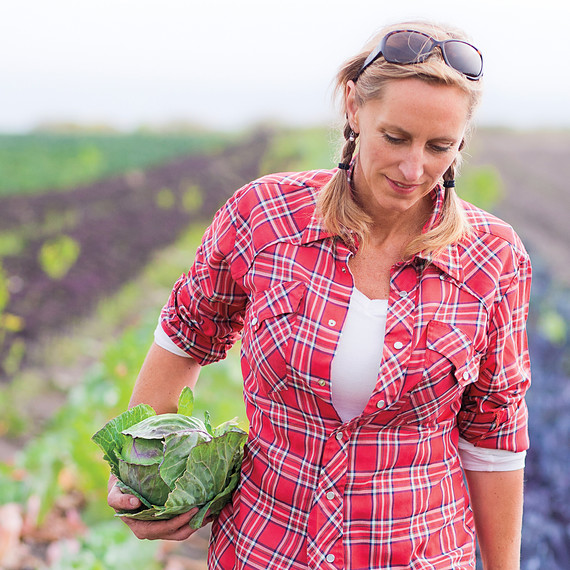 Kathryn Lukas founded Farmhouse Culture, a small organic sauerkraut business, in Santa Cruz, California. Appropriately enough, the city is halfway between two world bastions of fermented cabbage -- Munich, Germany, and Seoul, South Korea -- both culinary muses for Lukas. Sauerkraut is also, of course, "as American as apple pie," says Lukas, a third-generation Californian and a professional chef. But in this country, "it's ripe for rediscovery."
To make the company's classic version, seeded with caraway, Lukas sticks to a traditional Bavarian recipe. For some of the more unconventional flavors -- including sauerkrauts spiked with horseradish and leeks or smoked jalapenos -- she draws inspiration from kimchi, the fiery fermented cabbage beloved in Korea, or curtido, a spicy cabbage salad that's a favorite in El Salvador. All Farmhouse Culture sauerkrauts are naturally fermented and righteously tart, with a distinct crunch often lost in mass-produced versions of the condiment.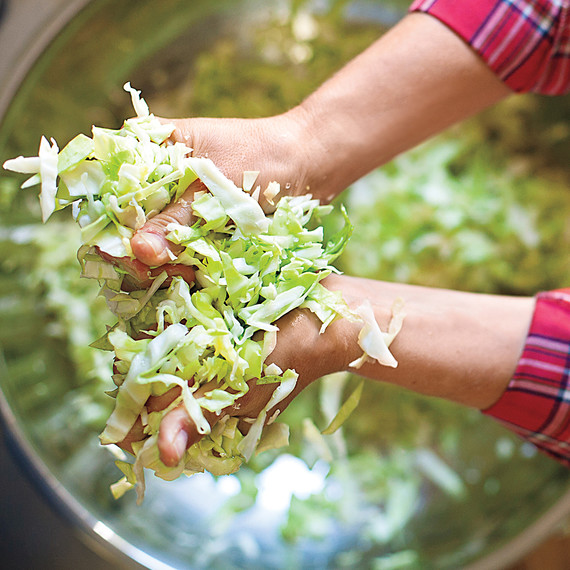 Although Lukas founded her business in 2008, setting up shop at a historic mill built in the early 1900s, her interest in sauerkraut goes back more than a decade. After a stint running a restaurant in Stuttgart, Germany, in the mid-1990s, Lukas returned to the United States and took a course on fermented foods at Bauman College, a holistic nutrition and culinary school in Santa Cruz. Later, she studied at the New College in San Francisco, writing a thesis titled "Reclaiming Pre-Corporate Food Traditions."
So it's not surprising that Farmhouse Culture products have a composition in keeping with the artisanal-food ethos. The green cabbage and even the coarse salt are locally sourced. And the sauerkrauts are barrel-fermented, much like traditional German renditions. Perhaps most important, the sauerkraut isn't pasteurized. This helps the cabbage retain crunch as well as potentially gut-healthy probiotics that are destroyed when heated.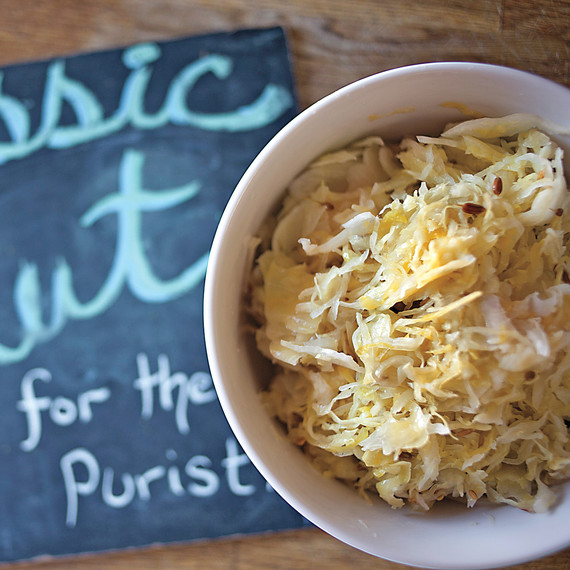 For Lukas, though, traditional methods also leave room to experiment with sauerkraut. "In this country, we've been eating it the same way for the last 200 years," Lukas says. To break out of the hot dog routine, she suggests adding some smoked jalapeno sauerkraut to a grilled cheddar cheese sandwich. Or combining Farmhouse Culture's classic version with shredded carrots, scallions, and olive oil for a light side dish. And when you're down to just juice in the jar, add a shot to a Bloody Mary.
Get Farmhouse Culture's Classic Kraut with Caraway Recipe