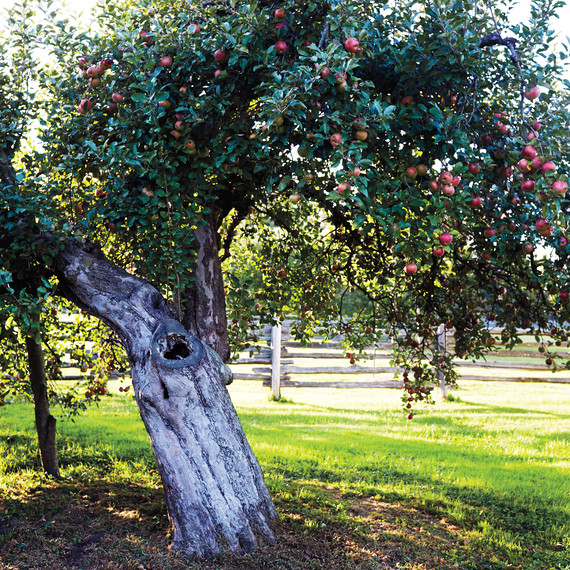 Today, only 15 varieties of apples -- including grocery store mainstays like Granny Smiths, Red Delicious, Gala, and the like -- comprise 90% of all the apples grown in the U.S. A few decades ago about 15,000 apple varieties were flourishing in orchards across the country. Apple varieties have fallen out of popularity for any number of reasons -- from low-yield to lumpy fruits to a less-than-shiny appearance. Now the members of the small Oregon-based nonprofit, Temperate Orchard Conservancy, hope to bring many North American apples back from the brink. On their 40-acre farm in Molalla, Oregon they are working to preserve 4,500 heirloom varieties, apples you're unlikely to find at any store. 
(Ready to make apple pie? We've got the recipes you need)
Using a technique called cloning or grafting, cuttings are carefully taken from trees in the orchard the conservancy bought from fellow apple enthusiast Nick Botner. A life-long heirloom apple devotee, Botner had "amassed the largest private collection of apple trees in the United States on his property in Douglas County [Oregon]. But as he approached his 90th birthday, Botner put his farm up for sale," The Portland Tribune reported, allowing the Conservancy to buy it and clone his specimens.
Simply planting the seed of your favorite apple is not a guarantee you'll get fruit says Joanie Cooper, president of the Conservancy. "Most of the time when you plant seeds you get a seedling. Maybe one in 1,000 will have a good apple. That's why it's necessary to graft, to save these old varieties." While it sounds like something from science-fiction, the cloning process is actually one used by the ancient Romans. "A little twig" is taken from from the tree and grafted to the roots of an existing tree. "Most all trees you see are grafted," says Cooper, explaining that ensures the fruit that eventually grows from these "scions" or cuttings is consistent.
(Learn more about why you should seek out unusual apple varieties)
Why preserve these long-forgotten siblings of the ever-popular Golden Delicious and McIntosh? The fruit-lovers of Temperate Orchard Conservancy hope they will be able to help preserve genetic diversity in our nation's fruit tree population. Cooper points out that the devastation of the Irish potato famine could have been avoided had the Irish planted more than one type of potato. More diversity means more resistance to diseases and blights, plus a wider variety of apples to snack on or bake in pies.
The Conservancy plans to go beyond apples. They hope to clone grapes, cherries, plums, and peaches from Botner's extensive collection and start a revolution in botanical preservation. While you can't buy any apples from them yet, scions will be available for purchase later this year and soon they will be taking orders for grafted trees -- so you'll be able to start your own unique and diverse orchard soon.