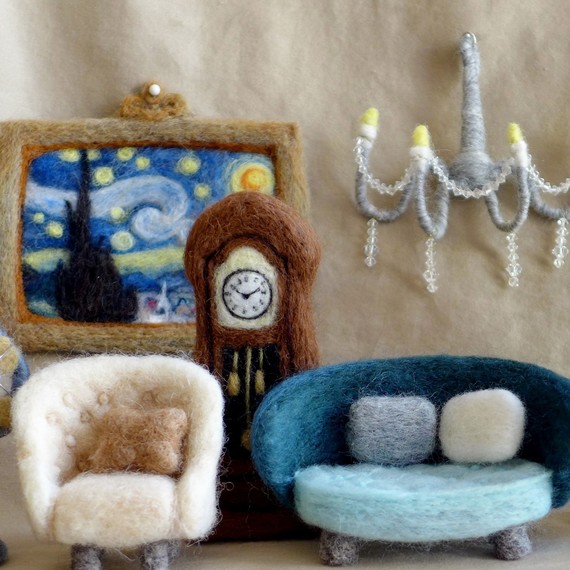 You've had a sneak peek into some of the world's most incredible dollhouses, but have you ever stumbled upon such small, delicate furniture crafted from wool? These miniature pieces are actually made from needle-felting wool, says the maker Winnie Chui. Her felted creations may be small, but they make a big impression.
Where does one get the idea to recreate living room sets, Vincent van Gogh's famous impressionist paintings, or a Swarovski chandelier? "Dollhouse and antique furniture always amaze me; that's why I create this antique style miniature furniture set," Chui explains. "It is something that can be a great collection to keepsake and display in a shadow box or cube shelves." There are nine pieces in total, including the crystal chandelier, vintage fan, grandfather clock, blue armoire, garden urn, blue settee with cushions, armchair with cushion, gramophone and the painting.
[TRY THIS: Needle-Felted Scarves with Yarn Stripes]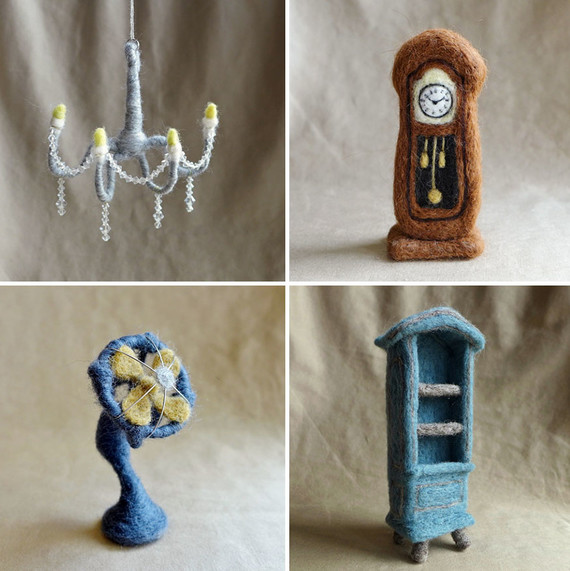 "All pieces are needle-felted with details," she says, "a lot of time to research, thoughts, and efforts have gone into making these. It is truly a labor of love." She compares her needle felting to an artist's shading and layering as she uses special barbed needles to compress and stitch the fibers together. Each furniture piece can take several hours to complete. However, what do hours matter if you're motivated by a challenge and a flow of creative ideas? Winnie doesn't seem to care much about the amount of time labor as it's a hobby she truly enjoys. "Needle felting is my recent passion because I can create something magical from the fantasy world," she says, "and all those beautiful things out of imagination. They can be unreal or they may just look like the real thing."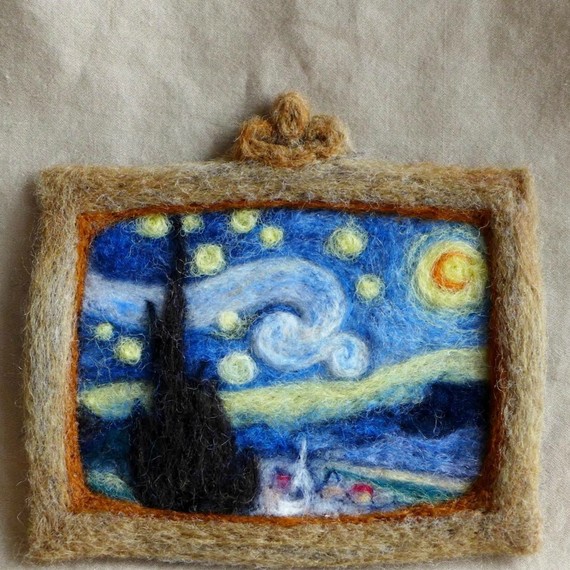 Visit Winnie Chui's Esty shop to shop her miniature wool crafts.
Feeling inspired? Try your hand at the needle-felting technique by updating your accent pillows: