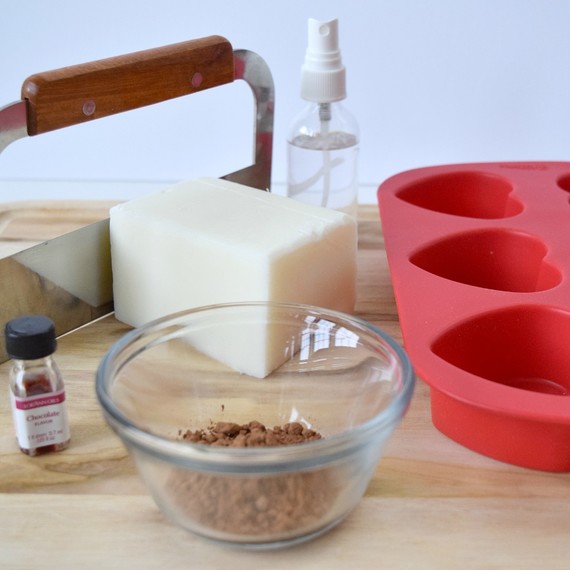 Ingredients
8 ounces goat's milk melt-and-pour soap base
2 ounces raw cocoa butter
2 teaspoons cocoa powder
Concentrated chocolate flavoring
Yields 6 heart-shaped bars. You can purchase the goat's milk melt-and-pour base and the raw cocoa butter online or at a specialty health foods store.
Materials
Soap cutter
Heat-resistant glass measuring cup
Plastic spoon
Small spray bottle filled with rubbing alcohol
Heart-shaped silicone molds
[DON'T MISS: Oooh! These Bath Bombs Come With a Hidden Sparkly Surprise]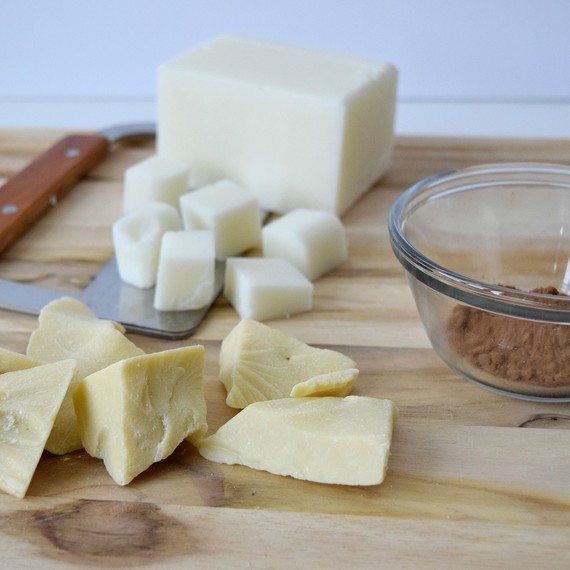 Step 1
Use the cutter to cut the goat's milk base into cubes that measure approximately 1-inch by 1-inch. The cutting process is much easier (and safer) when you use a soap cutter versus a knife, so be sure to invest in one before you start making your bars.
Step 2
Place half of the goat's milk base cubes into the heat-resistant measuring cup along with half of the cocoa butter (cut if needed).
Step 3
Microwave the base and cocoa butter mixture for 30 seconds. Carefully remove the measuring cup from the microwave and stir the mixture with the plastic spoon. If you still see clumps, return the measuring cup to the microwave and heat the mixture for an additional 30 seconds. Repeat as necessary until the mixture is smooth.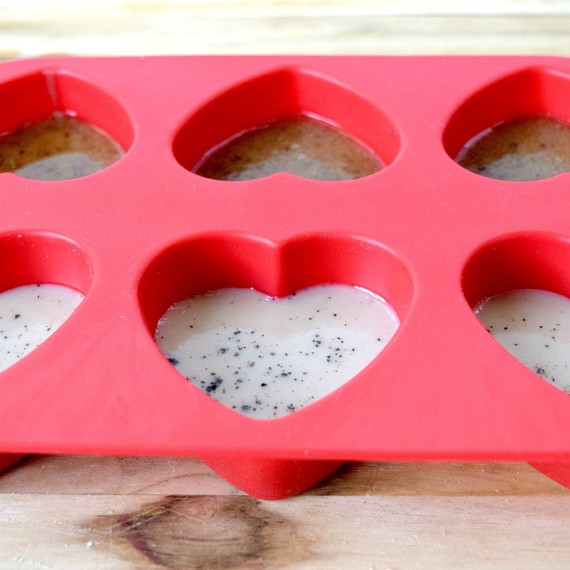 Step 4
Once the mixture is smooth, add teaspoon of cocoa powder and a few drops of the chocolate flavoring (to your liking). Mix thoroughly with the spoon.
Step 5 
Spray the molds with the rubbing alcohol before pouring in the mixture so that the bars will slide out easily once set.
Step 6
Carefully pour the mixture into the molds, filling each heart to just above half. You should have enough to fill three hearts. Distribute any excess among these three as needed.
Step 7 
To create the three remaining bars, follow Steps 3 through 6, but omit the cocoa butter. Without the fat from the butter, the cocoa powder does not mix with the goat's milk base as well, and the final product will resemble a "cookies and cream" chocolate bar as shown.
Step 8
Once you fill all of the molds, let the bars set at a comfortable room temperature or place them in the refrigerator for about an hour (or until hard).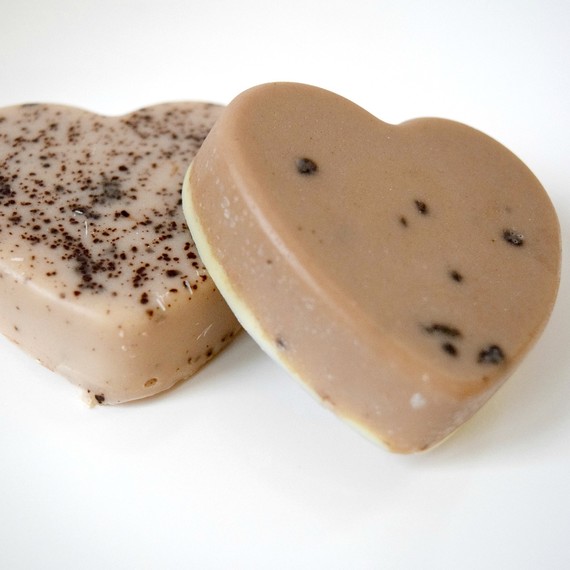 To remove your bars from the molds, simply pop them out (a task made so much easier by the rubbing alcohol that you sprayed inside the molds beforehand in Step 5).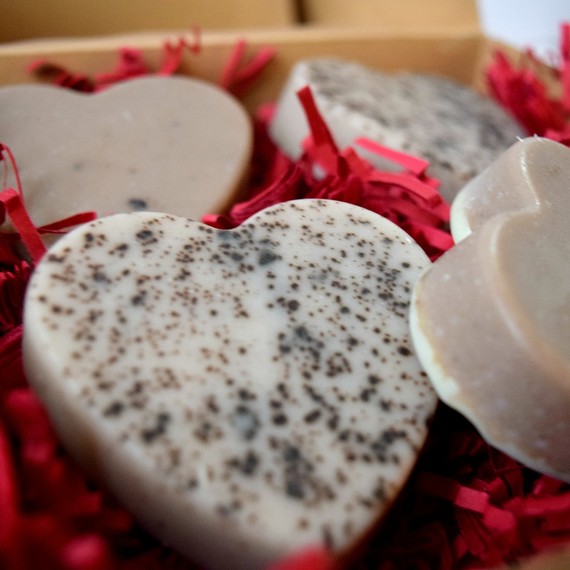 Whether you're keeping your milk chocolate soap bars for yourself or gifting them to a chocolate-loving Valentine, here are some fun packaging ideas from Martha Stewart to add to the appeal of your treats!
Here's another DIY treat to pamper yourself — homemade lip balms: