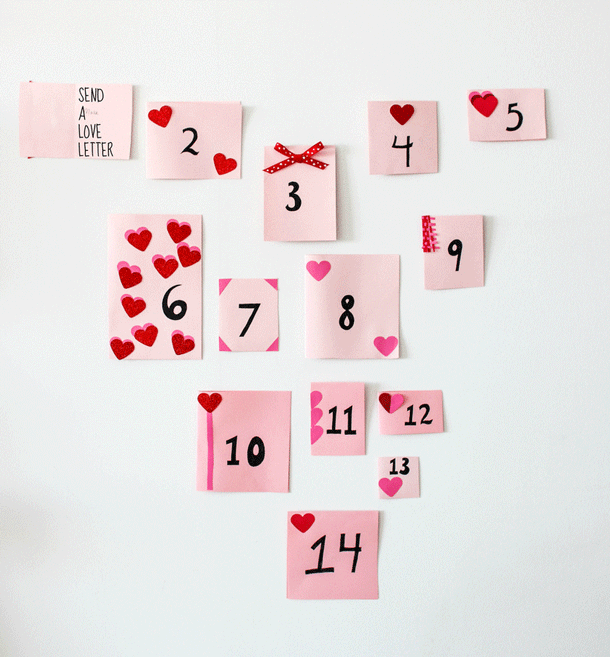 We like to think that Martha would agree: Love is a "good thing."
And it doesn't matter who is the recipient of that love! Valentine's Day is meant for everyone, regardless of relationship status. Boyfriends, girlfriends, spouses, friends, family members, neighbors — there are so many people deserving of love in our lives. Why not show them how much you care?
That's why we're kicking off 14 Ways to Celebrate Valentine's Day, a 14-day celebration meant to bring you daily inspiration for Valentine's Day. Every day from now until February 14, check back here for a new idea — from chocolate-y recipes to thoughtful valentines and gifts — on how to spread the love. So follow along — and share your own ideas with us for spreading the love on Valentine's Day.
[DON'T MISS: Everything You Need for Valentine's Day]
Day One: Send a Love Letter
It's one of — no scratch that, the most meaningful — romantic gesture. Love letters have inspired some of the world's most famous stories. This year, send a handmade card enscribed with a heartfelt message. And if words escape you, there's one meaningful phrase you can write and it only takes three little words: "I love you."
[TRY IT: Make and Send a Valentine's Day Card]
Day Two: Make Truffles
Here's a sweet for your sweetie. (Get it?) While we've cooked up countless handmade chocolate recipes over the years, this one from the January/February issue might have officially stolen our hearts: It's our Chocolate-Caramel Truffles rolled in white, pink, and red sprinkles. Package them in a heart-shaped box, and add a punny message like "The two of us go together like caramel and chocolate."
[TRY IT: Make Our Chocolate-Caramel Truffles]
Day Three: Read a Poem
Shakespeare. Elizabeth Barrett Browning. Emily Bronte. What poets! We might not all have a special way with words, but that doesn't mean you can't serenade your sweetheart with a sweetly-expressed verse this Valentine's Day. Write one of these poems out longhand into a card and — if you want to really sweep him or her off their feet — accompany it with an inspired gift.
[TRY IT: 7 Valentine's Day Poems That Make Our Hearts Flutter]
Day Four: Arrange Roses
More specifically, arrange a beautiful bouquet of blooms for someone you love or even yourself. Try our idea for blooming garden cloches: They're bright, beautiful, and fit under a glass dome.
[TRY IT: Valentine's Day Garden Cloches]
Day Five: Craft With Kids
Are you looking for a non-candy alternative for your kids to hand out this year for Valentine's Day? These cute little critters are wind-up toys affixed to a cardstock cutout — bound to be among their friends and classmates.
[TRY IT: Love Bug Valentines]
Day Six: Surprise Someone Special
Because what's more romantic than wearing a sweet reminder of a loved one near your heart? Whether you're a collector, a gift-giver, or simply someone who likes to wear vintage jewelry in new ways, lockets have a personal appeal that makes them precious.
[TRY THIS: Pretty Vintage Lockets]
Day Seven: Make Some Candy
Or more specifically, melt a batch of your own shiny, colorful candy gems. Gel-paste food coloring gives them that rosy glow and they can be made to suit any taste: cinnamon, orange, almond with extracts.
[TRY THIS: Candy Gems]
Day Eleven: Don't Forget Fido
Your four-legged friend deserves a valentine too, right? For that, we have the paw-fect thing: a dog treats jar! We used a 3-ingredient recipe of rolled oats, canned pumpkin, and organic peanut butter, but feel free to use your go-to recipe.
[TRY THIS: Valentine's Day Dog Treats in a Jar]
Day Twelve: Share a Cup
... of cookies, that is! Who doesn't love freshly-baked, slightly ooey-gooey cookies from the oven? Here's how to gift that in a recipe-printed mug. Cookies, cakes, and sweet treats served in a cup are all the rage these days — so why not craft your friends a vessel specifically for the purpose of single-serving baking?
[TRY THIS: Recipe-Printed Cookie in a Mug]
Day Fourteen: Give From the Heart
It can be anything: a box of chocolates, a tin of homemade cookies, a bouquet of flowers, a handwritten card. And it can be sent to anyone: a spouse, a friend, a neighbor, a coworker, a family member. (You get the picture.) The idea is simple: Let someone know you care, by any gesture big or small, because that's the true meaning of Valentine's Day (and something that can be celebrated every day).
[TRY THIS: Valentine's Day Gifts]