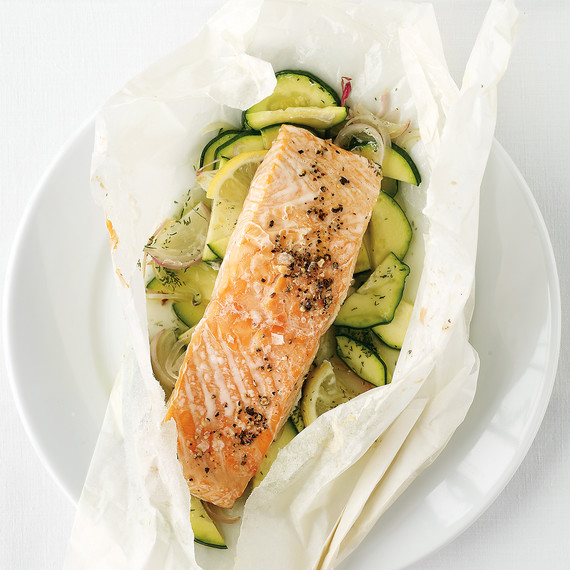 Fish lovers rejoice! After a lengthy debate over fish consumption and the threat of mercury in seafood, the Food and Drug Administration (FDA) and Environmental Protection Agency (EPA) have laid down the law once and for all. The verdict: eat fish, and eat more of it.
In a press announcement, the organizations issued what they intend to be "final" advice regarding fish consumption, with particular attention to pregnant women, breastfeeding mothers, and mothers of young children. The advice, which buildson a 2014 guide released by the organizations, suggests that consumers eat between 8-12 oz. of fish -- including shellfish -- per week. Specifically, the FDA and EPA wants consumers to eat the right fish. To help them do that, they have also released a easy-to-navigate chart that breaks down the best practices for eating fish. This includes information about serving size – you can use the palm of your hand to determine how much fish to eat and keep it within a safe range – as well as a breakdown of the "best choices," "good choices," and "choices to avoid" when it comes to selecting fish to eat.
(READY to cook cod? Try these delectable recipes.)
The chart includes 62 varieties of fish, along with serving size recommendations according to each category. The best fish to eat, according to the FDA and EPA, include anchovies, herring, tilapia, and flounder. With fish that appear on the best choice list, they recommend having 2-3 servings per week. Fish on the good choices list, which include bluefish, tuna, and halibut, should only be consumed once a week. As for the choices to avoid, the FDA and EPA were careful to identify the varieties of fish that contain the highest mercury levels and should be viewed with caution. This category contains seven particular varieties: tilefish from the Gulf of Mexico, shark, swordfish, orange roughy, bigeye tuna, marlin, and king mackerel.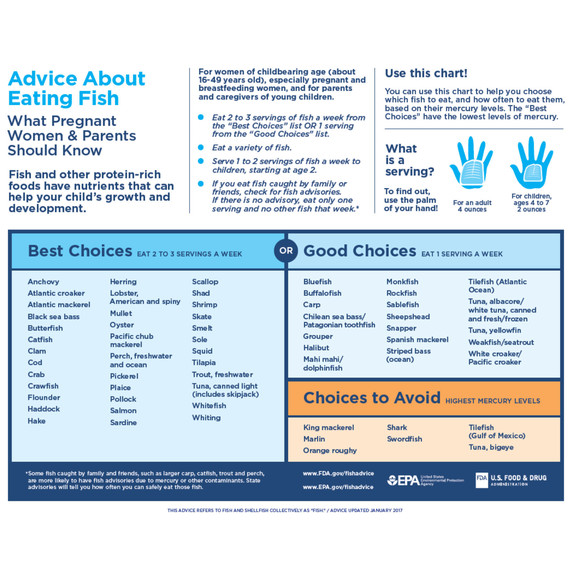 In conjunction with these new guidelines, the FDA and EPA are planning an education campaign which will further help consumers make informed decisions about seafood. It may aim to promote responsible fish consumption by helping people identify where to buy sustainable fish, as groups like Seafood Watch do now.
(COOK: a healthy salmon dinner tonight)
In recent years we haven't been eating as much seafood as the FDA is now recommending. A lot of people are intimidated to cook fish; they think it's difficult to do and believe fish is more expensive, plus they've been hearing about mercury in fish and worrying about what types of seafood are sustainable. By offering clarification, the FDA and EPA hope to encourage consumers to take an informed and enthusiastic approach to eating fish.
"Fish are an important source of protein and other nutrients for young children and women who are or may become pregnant, or are breastfeeding. This advice clearly shows the great diversity of fish in the U.S. market that they can consume safely," said Stephen Ostroff, M.D., FDA Deputy Commissioner for Foods and Veterinary Medicine, in the press announcement. "This new, clear and concrete advice is an excellent tool for making safe and healthy choices when buying fish."
Now, watch how to make this healthy salmon dinner that requires just 10 mins of prep then cooks, hands-off, in the oven: