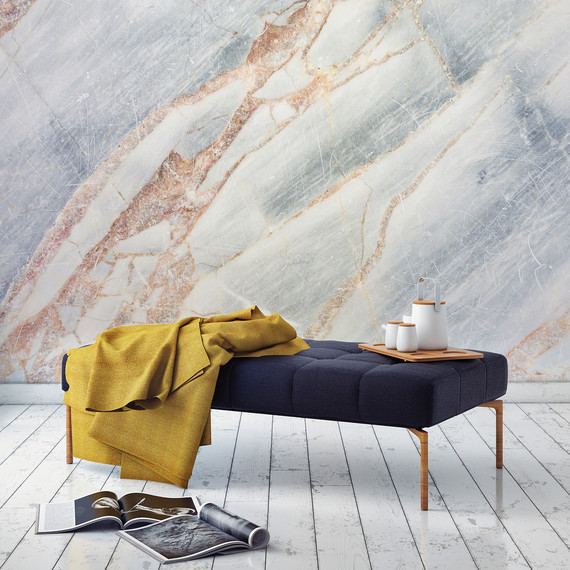 Marble is undoubtedly a stunning accent in any home, but it's usually reserved for kitchen or bathroom counters since it's so pricey. However, thanks to one of this year's biggest home decor trends, you can now enjoy the aesthetic appeal of marble throughout your home. Introducing your new obsession: marble wallpaper!
Decor fanatics everywhere are loving this trend, and wallpaper companies can't create these amazing prints fast enough. The hyper-realistic look of marble wallpaper lets you bring the elegance of the luxurious rock into your home in unprecedented ways.
[FOR REAL MARBLE: Marble Care and Maintenance 101]
Here are five ways that you can use marble wallpaper as part of your decor:
1. Unique Colors
Marble -- or in this case, marble wallpaper -- doesn't have to be neutral! When you opt for a green or pink pattern (like the ones offered by Murals Wallpaper), you can then tie the whole room together with matching furniture and decor.
2. High-Fashion Glamour
If you want a more glamorous look, you might opt for marble wallpaper with metallic swirls. The light-catching pattern is perfect for creating a stunning accent wall.
3. Minimalism
Those with a more minimalistic style can complement their decor with a more subtle marble pattern. This style of white and gray wallpaper would look wonderful in the living room, kitchen or bedroom.
4. Wallpaper Panels
You can make your marble wall look especially realistic by creating a block pattern. You can line them up perfectly or stagger the panels in a brick-like pattern.
5. Bold Entry
Welcome guests into your home with a faux-marble entryway. The chic accent wall will wow your visitors (and it will make you smile every time you get home, too!).
[WATCH: How To Dress Up Your Entryway]
6. Pops of Pattern
Marble wallpaper is a great way to incorporate a fun new pattern into your decor. If you have mostly solid furniture and accessories, a patterned wall may be just the thing to bring more dimension to the room.