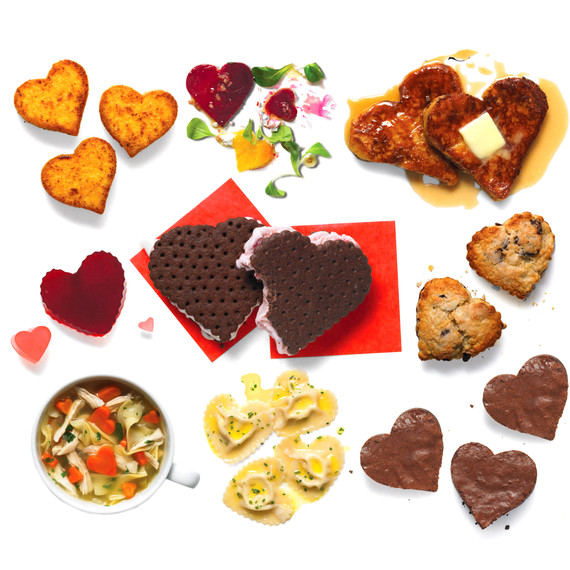 For dinner, try sauteed polenta, or add roasted red and golden beets to a salad. Or start the day with a French toast breakfast in bed. For dessert, make rosy gelatin cutouts with pomegranate juice and pink lemonade, strawberry ice cream sandwiches, or fragrant cherry scones. Still loving this idea? Add cute carrots to soup, or make lovey-dovey ravioli or the best brownies. Here are our top tips for making these delicious love bites.
1. Polenta
Cut firm polenta, then saute.
Try Our Sausage and Peppers with Toasted Polenta Recipe
2. Beets
Slice roasted beets into rounds, and cut hearts.
Try Our Beet Salad with Honey-Lavender Dressing Recipe
3. French toast
Freeze the bread for about 15 minutes before cutting.
Try Martha's Favorite French Toast Recipe
4. Gelatin
Make it extra firm (use 1 1/2 times gelatin called for in a homemade recipe), and cut after it sets; rinse cutter with warm water between cuts.
Try Our Coconut-Water Gelatin Recipe
5. Ice cream sandwiches
Use any cutout cookie recipe.
Try Our Chocolate-Strawberry Ice Cream Sandwiches Recipe
6. Scones
Cut dough before baking.
Try Our Cherry-Hazelnut Scones Recipe
7. Carrots
Slice into 1/4-inch rounds while raw, then cut out hearts. Add to soup, and simmer until tender.
Try Our Simple Chicken Noodle Soup Recipe
8. Ravioli
Use wonton wrappers, not pasta.
Try Our Crab Ravioli with Lemon Butter Recipe
9. Brownies
Cut after baking. Wipe cutter, and coat with nonstick spray between cuts.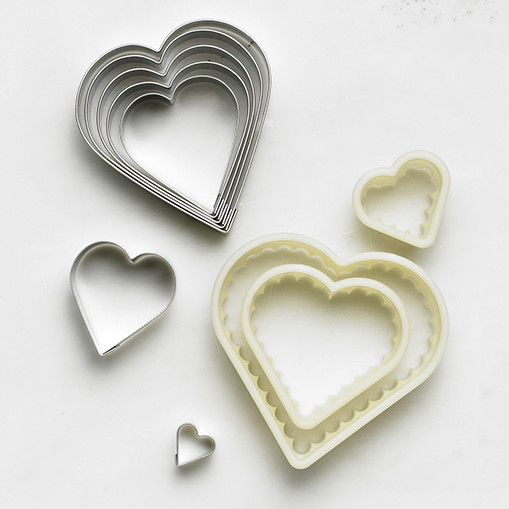 THE DETAILS
Tissue squares, 4 inches, $2 for 24, wilton.com. Aspic cutters, 3/4 inch, $8 for 12, and heart cookie cutters, $9.59 for 6; cooksdream.com. Heat-resistant fluted heart cutters, $49.75 for 6, bakedeco.com.