Roses, chocolates, and oversized teddy bears are the norm on Valentine's Day and this year, we expect it to be no different. But if you time it right, you can save yourself some money — at least 40 percent. According to new research from Bradsdeals.com, the weeks of mid- to end- January is the time to submit your bouquet orders.
Aside from the month of February, the price of red roses are moderately low and especially greatly more affordable in the summer months. It was found that beginning now, roses begin to creep to the highest dollar price being $50 a dozen and slowly go back down after Valentine's Day to the reported lowest price, $32.
[TRY THIS: Make a Clothespin Frame to Display Your Roses]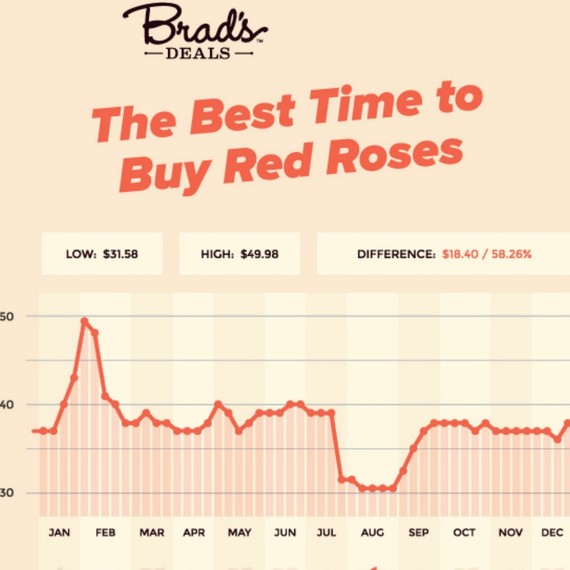 Why, you may ask? Researchers broke down the graphic and went behind their found stats. "Florists need to turn a profit, of course, and Valentine's Day is surely the high season," they report. "What we found was a lot more complex than that. Although flowers are largely treated as a standard retail item, they are in fact a highly perishable agricultural product, which introduces all kinds of difficulties and scenarios that can affect their price on any given day."
In fact, growing and pruning the anticipated red roses to be ready in time (and in large quantities) for Valentine's Day is indeed, a lot of work. The work to get the flowers ready in time for February 14 begins right after the holidays. Liz Castoro, Associate Director, Enterprise Public Relations for 1-800-Flowers shares the red rose preparation, elaborating, "After the Christmas season demand for red roses is filled, growers need 50 to 70 days to produce enough roses for Valentine's [Day] demand. Valentine's [Day] inspires the heaviest demand for long-stemmed roses, and several rosebuds are [sacrificed] to create a single long-stemmed rose."
The takeaway? The next time you're inclined to bemoan the higher cost, just know that it took a lot of "flower power" to get the red roses here, perfect, and ready for love's biggest day. Luckily, Valentine's Day is only one day and then, we can buy our roses at a lower cost starting the day after the holiday.
Of course, you can always go the "DIY" route and make your own everlasting bouquet: