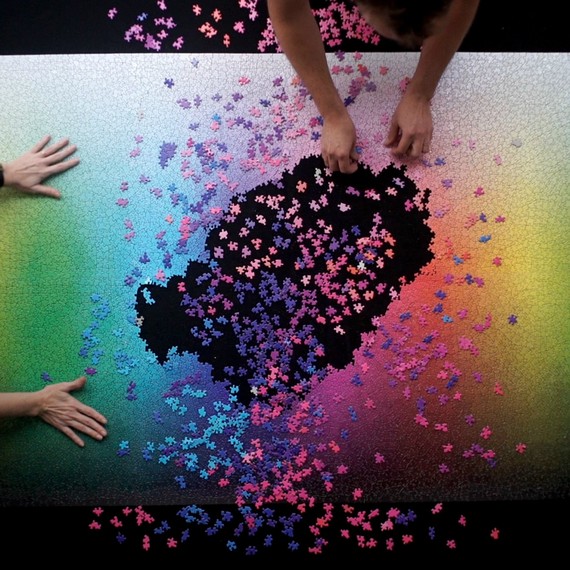 A word of caution: this is not your typical puzzle for a Sunday afternoon. Today, we're introducing what might be the world's most vivid, beautiful, technically accurate, difficult, but incredibly satisfying colorful jigsaw puzzles to date.
Illustrator and puzzle-maker Clemens Habicht's 5,000 COLOURS is a jigsaw puzzle inspired by the CMYK color model and comprised of 5,000 pieces. Each tile is an individual color and the task is to coordinate each piece exactly in relation to every other color. Clemens Habicht designed this puzzle after his following of puzzle pros were successfully able to complete his first puzzle challenge: the 1,000 COLOUR puzzle. "This one is for all those who wrote and said that 1,000 COLOURS wasn't a challenge," he says in a statement. "Multiplying the number of pieces by a magnitude of five on a random ribbon makes the difference in hue between neighboring tiles barely perceptible."
[WATCH: Take 30 Seconds to Watch These Relaxing Paint Videos]
His puzzles are booming in popularity — in fact, they keep running out of stock! But do not fear, color-lovers, as the company already is currently taking pre-orders for a mid-March release. Not-to-mention, Clemons Habicht's highly-anticipated fifth puzzle creation is set to challenge us even more as they called it, "a healthy challenge to seasoned and amateur puzzle fans alike, and will hopefully blow your mind, but all the other details are top secret for now!'' The pre-order available here will begin shipping within 6-8 weeks.
While you await your next colorful puzzle challenge, re-watch the video for your daily dose of color: