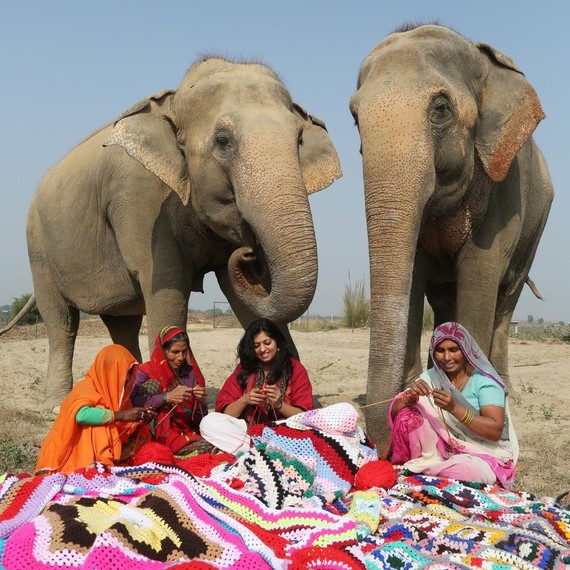 What do you do when you need to protect elephants from Mother Nature's chill?
Take notes from the WildLife SOS Elephant Conservation and Care Center located in Northern India. The elephants in residence are experiencing rather chilly temperatures. Luckily, the local villagers were quick to craft on their feet as they care deeply about the well-being of the rescued elephants now living in the sanctuary from a previous life of animal cruelty and other terrible circumstances.
Don't miss out: Get Martha's Guide to Knitting — it's the exclusive resource for knitters of all skill levels.
Today, 23 elephants are clothed in warm (giant!) sweaters to shield them from the dipping temps. Take a note from the pictures that these are not your typical giant elephant sweaters — as if there was such a thing, but each sweater is knitted in a colorful, unique pattern. As you can imagine, knitting a sweater so large does take time. To be exact, it takes four weeks for one sweater to be finished.
[TRY THIS: Knit for a Cause and Help Animals in Need]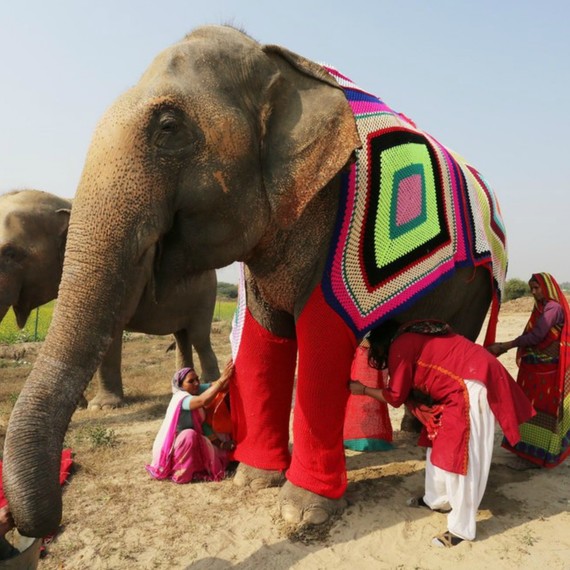 "It is important to keep our elephants protected from the bitter cold during this extreme winter, as they are weak and vulnerable having suffered so much abuse making them susceptible to ailments such as pneumonia," Kartick Satyanarayan, the founder of the elephant sanctuary said to The Dodo. "The cold also aggravates their arthritis which is a common issue that our rescued elephants have to deal with."
There are still several elephants who need a sweater to be knitted for them. Here's how you can help: contribute a donation to the Wildlife SOS that will go toward purchasing a blanket for a chilly elephant in need.
You may have heard of the saying, ''An elephant never forgets.'' Surely, any elephant will never forget the kindness and generosity of the people near them and as well as around the world who have done everything they could do to make sure that this winter the elephants stay warm and dry.
And don't forget to keep your own pet snug and warm: