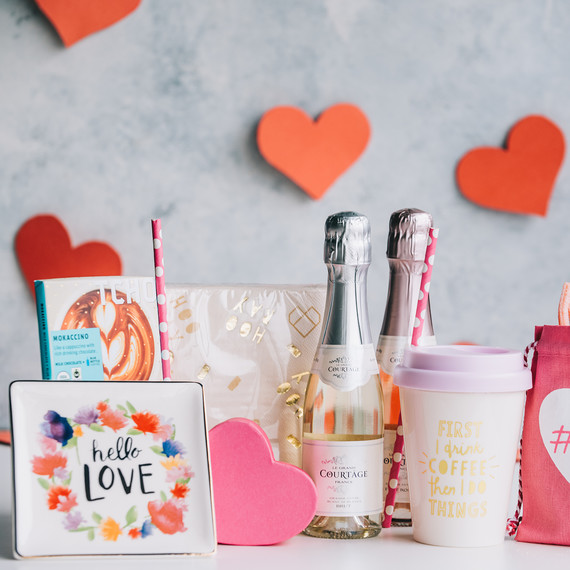 What I love about Valentine's Day is that the love it celebrates is all-inclusive. It's not just about a married couple celebrating their steady commitment to one another, or roses on a first date, or chocolates with your best friends, but the love you have for everyone in your life: a family member, your sister, your best friend, even your neighbors. 
So each year, I like putting together gift baskets for my girl friends. This one — perfect for a colleague, sibling, or friend — is filled with the essentials to celebrate this happy day. Valentine's Day gives you permission to purchase and prepare all things pink! From decorations in your house to the food and beverage you create (last year I made heart-shaped grilled cheeses), this day is about hearts, pink, purple, and red.
[HOST: A Galentine's Day Parfait and Paint Party]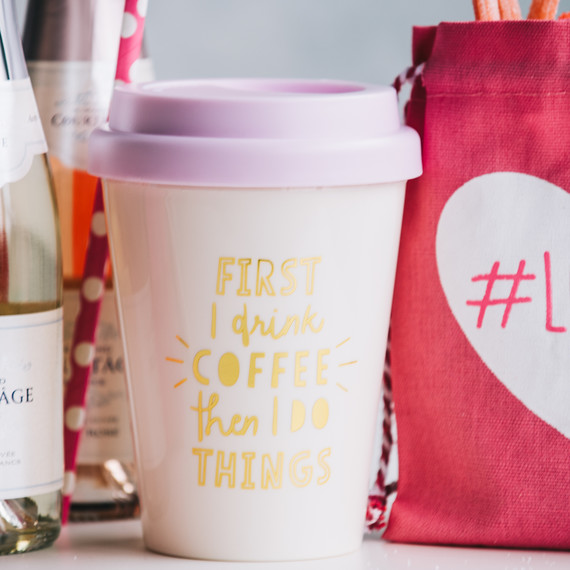 1. Coffee Mug and Custom Recipe
Of course, I like combining items that relate to food and beverage. Reusable cute coffee cups are my go-to and I print different coffee recipes, like Irish Coffee and Coffee Frappes, and put the recipes in the mug. It's a nice little surprise when opening the mug to clean it.
[TRY THIS: A DIY Recipe-Printed Cookie in a Mug]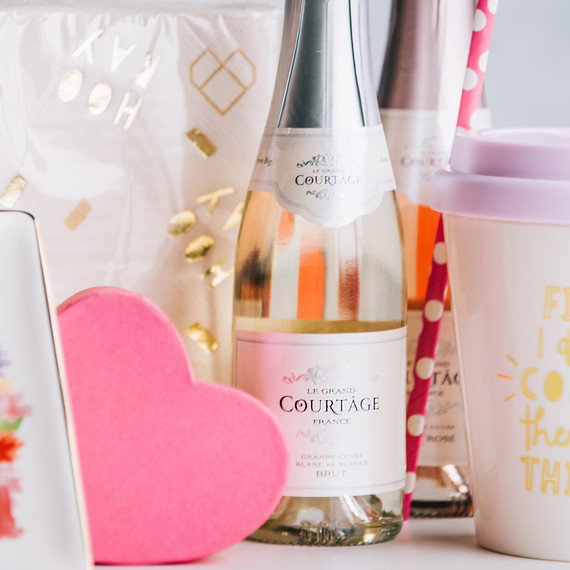 2. Bottle of Bubbly
And of course, almost every gift I give includes champagne! I love these mini 187 ml bottles of Le Grand Courtage champagne in both brut and brut rose. Add a couple straws, that way your friend can pop the bubbly and drink it straight out of the bottle.
[YOUR TWO FAVORITE THINGS: A Doughnut and Bubbly Bar]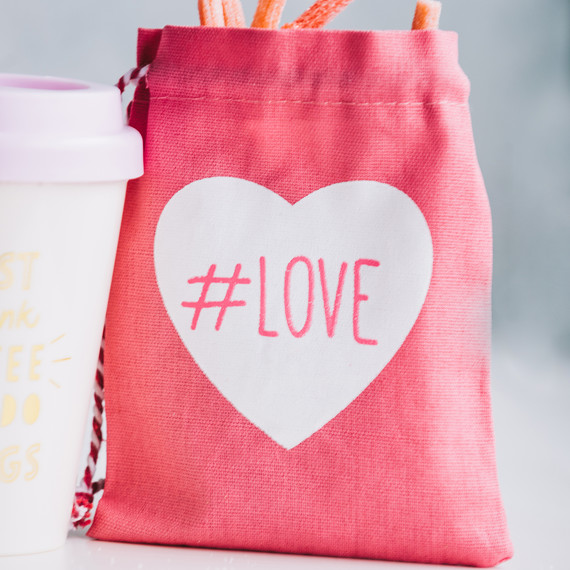 3. Candy Bag
Look for little reusable bags at your local craft store and fill them with chocolates or candy. I filled this one with sour strawberry and cherry straws to stick with my pink theme! Similar to this, is that tiny pink heart cardboard box. Filled it with chocolate kisses or homemade mini cookies.
[MAKE: Valentine's Day Treat Bags]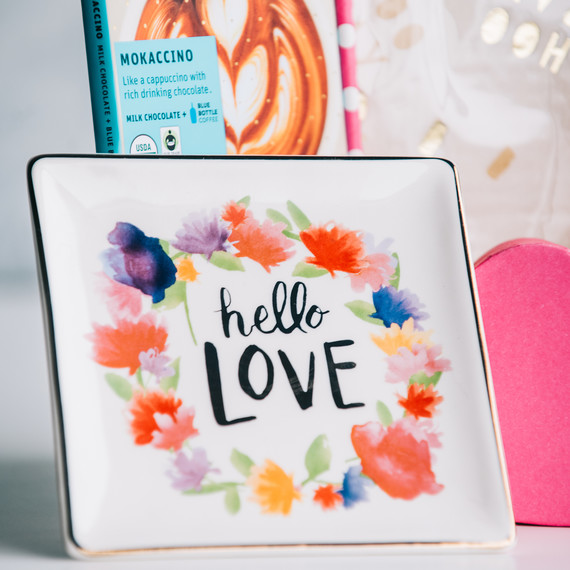 4. Decorative Dishes
You can always use more dishes! Whether to place your jewelry on, a candle, or your keys — look for little plates that can be used as decorations around the house. The great thing about little dishes like this adorable love one is that you can use all-year-round or just bring it out during the season.
[MAKE: Scalloped Clay Jewelry Dishes]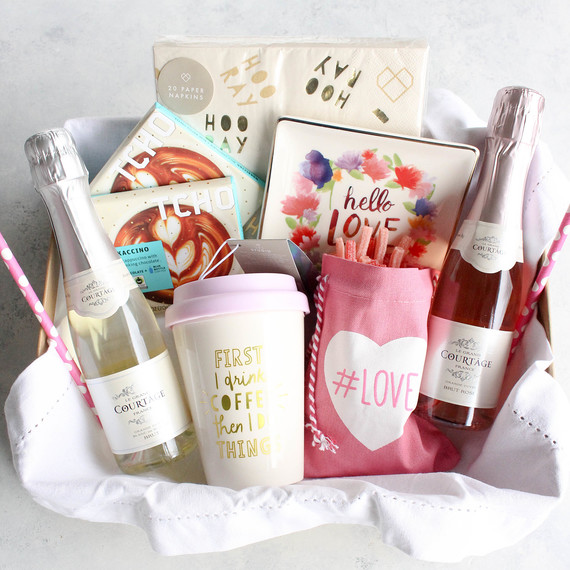 5. Pretty Cocktail Napkins
Lastly, add a pretty set of paper napkins. When all together — the napkins, chocolate, cute plates and cups, pouches of candy and bubbly — your friend will be thrilled to get this lovely basket! So when putting together a Valentine's Day gift basket remember these three things. First, don't worry about overdoing it on the pink and hearts — that is what makes this holiday so romantic! Second, think food and beverage. From napkins and straws to edible treats, keeping food and drink in mind will help focus your gift basket. And finally, remember:Valentine's Day is for everyone. To celebrate love, no matter what and whom that love may be.
These gift baskets make adorable favors for a Valentine "Kiss" Party: