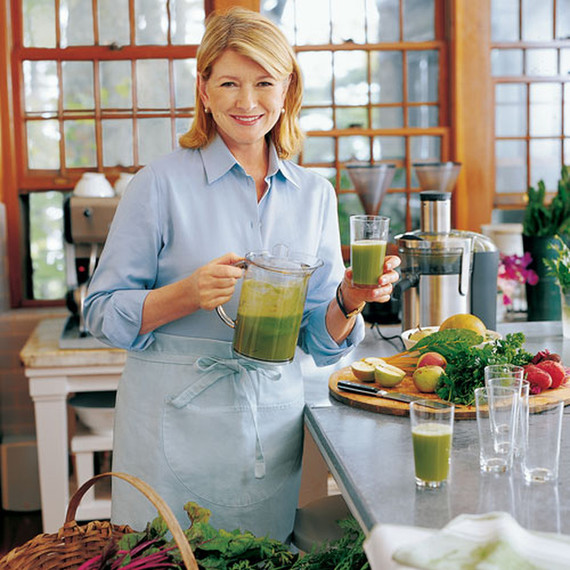 For good or for bad, the media provides us with a never-ending dialogue of nutrition dos and don'ts. With so much information buzzing in the blogosphere, it's next to impossible to decipher fact from fiction -- which is why we set about to debunk these myths once and for all. 
Myth:
You need to drink 8 eight-ounce glasses of water each day.
Truth:
It's time to do away with the "8x8" rule once and for all. While it would be impossible to function without water, as it makes up 60 percent of your body weight, studies show that there is no considerable health benefit of this misconceived guideline. In fact, the Institute of Medicine (IOM) recommends a daily water intake of 11 cups for women and 15 cups for men.
The reality is that most people already do consume enough water each day, just not always in the form of pure water. Both food and drinks contribute to you fluid intake. Most fruits and vegetables contain anywhere from 79 to 96 percent water. Cucumbers have the highest water content at 96 percent; celery and zucchini come in at 95, and watermelon and strawberries contain 92 percent. Better yet, coffee and tea lovers will be pleased to know that even caffeinated beverages can contribute to their daily count. The water in coffee and tea compensate for the total amount of caffeine.
When in doubt, let thirst be your guide!
Myth:
Detox cleanses are good for your body.
Truth:
Despite their frequent celebrity endorsements, cleanses are more hype than health. There's no scientific evidence to show that consuming only liquids will accelerate the detoxification process in any way. The body is designed to remove toxins on its own -- that's why the liver, kidneys and gastrointestinal system exist. When people go on cleanses (often after a holiday) with the aim to restrict after a period of excess, it's a quick path to self-destruction. Restriction simply isn't sustainable long-term. Juices don't provide the body with adequate carbohydrates, protein or fiber, thus the brain will enter starvation mode and start to rapidly break down ketones, which are fuel from previously stored fat. Lacking essential amino acids that work as neurotransmitters to maintain mood, you will be more prone to depression.
Cleanses are simply another diet trend that will do more to your wallet than they will to your body. Most likely, any weight you lose will be gained back post detox. However, if you do choose to do a cleanse, use it as a way to impel yourself into a pattern of healthy eating and not as a way to lose weight.
Myth:
Gluten-free is healthier.
Truth:
About one in 100 people suffer from celiac disease, an autoimmune disorder for which a gluten-free diet is the only remedy. With celiac disease, gluten (a protein found in wheat, barley and rye) elicits an immune response that damages the lining of the small intestine. So unless you are diagnosed with this condition, gluten-free is not necessarily the healthiest option -- and it's definitely not the cheapest!
The trend to go gluten-free is unfounded in the health world -- there is little evidence to show that adopting this diet will boost energy, maintain weight or treat autism.
In fact, a gluten-free diet may lack essential vitamins and minerals, setting you up for nutritional deficiencies. It may even cause you to gain weight, as gluten-free options often contain more sugar and calories to make up for the taste lost with the removal of wheat.
Myth:
Carbohydrates will make you fat.
Truth:
Carbohydrates aren't a one-size-fits-all food group. There are different kinds, simple and complex, so it's important to incorporate the right ones into your diet. Sure, filling up on sugary, refined and processed carbohydrates, such white bread, rice, cereals and pasta can lead to health problems like diabetes and heart disease. Simple carbs will also raise your blood sugar levels and cause you to crave more sugar. However, complex carbohydrates -- like whole grains, fruits, vegetables and legumes -- are digested more slowly and release a steadier flow of glucose into the blood stream. The fiber in these foods help you feel more satiated, therefore you are less likely to overeat. Without complex carbs, you're blocking your body from one of its main source of nutrients.
The bottom line is that carbohydrates are not inherently evil. While a low-carb diet may help "carb-addicts" manage their weight, the focus should be on calories -- eating too many of them, in any form, is the real culprit of an increased waistline.
Myth:
Brown eggs are more nutritious than white eggs.
Truth:
Don't let a price tag deceive you! Brown eggs have the same taste, quality, and nutrients as white eggs. The difference is in the chicken. White-feathered chickens with white earlobes lay white eggs, whereas reddish-brown chickens with red earlobes lay brown eggs. (Some breeds even lay blue eggs!) The higher price of brown eggs is due to the red-brown hens that produce them; these hens tend to be larger in size, thus they require more feed, a cost that is offset in retail.
However, if you've ever eaten eggs from a home-raised chicken, you may have noticed that they were slightly richer in taste, with a brighter colored yolk. Although many backyard chickens produce brown eggs, it's not the color of the egg that accounts for the taste -- it's the quality feed that was provided to the chickens.