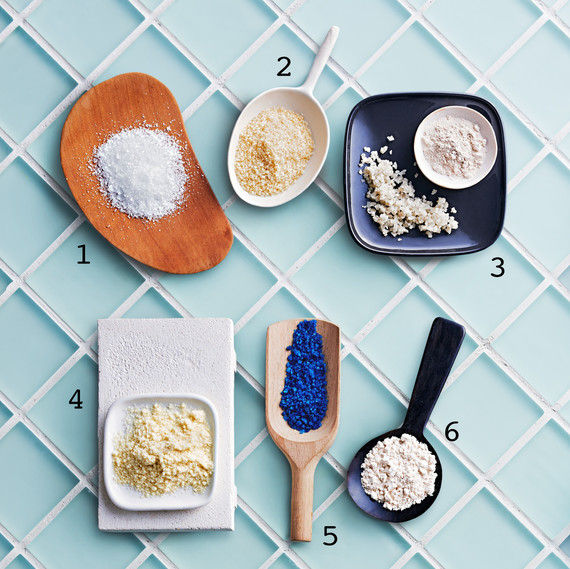 A hot bath does more than help you unwind. It can also bolster your immune system, relax sore muscles, and offer relief from breakouts and eczema when you steep in the right stuff. Find the best soak for you, and then go full steam ahead.
1. To Treat Breakouts
Blemishes occur anywhere -- even on your back -- when overactive oil glands get clogged with dead skin cells and sebum. The good news is that Epsom salts can clear them up. The magnesium-sulfate compound not only is anti-inflammatory, but also "helps shift the skin's pH to fight breakout-causing bacteria," says Taz Bhatia, a physician and integrative health expert in Atlanta. Buh-bye, bacne.
TRY: Dr. Teal's Pure Epsom Salt Soaking Solution, $5, drteals.com.
WHILE YOU SOAK
Treat your face, too. The sulfur and clay in Mario Badescu Drying Mask absorb pore-clogging oils. $18, mariobadescu.com.
2. To Fight a Cold
When your nose is stuffy and you're starting to feel aches and chills all over, slip into a eucalyptus-scented bath. "Eucalyptus oil and warm water have deconges- tant properties that help open the sinus pathways," says Kelly Holland Azzaro, past president of the National Association for Holistic Aromatherapy. She also touts the plant's antibacterial and antiviral properties.
TRY: Plant Apothecary Super Soak Organic Healing Bath, $32, plantapothecary.com.
WHILE YOU SOAK
Sip a smart tea. Add a few drops of Naturopathica Echinacea Immune Tincture to hot water to shorten a cold's duration. $29, naturopathica.com.
3. To Find Some Zen
If you're feeling fried, unplug all devices and sprinkle powdered clay into your bathwater. "It's a natural detoxifying substance," says Tere Ochoa, spa director at Rancho La Puerta, in Tecate, Mexico. Clay's negatively charged particles are said to be effective at attracting the positively charged toxins that your body wants to eliminate, like metals and environmental pollutants. Another upside: It has a skin-softening effect.
TRY: Pursoma Digital Detox Bath clay and sea salt mix, $34, pursomalife.com.
WHILE YOU SOAK
Zone out and multitask: Nourish hair with Klorane's mask with mango butter. $26, kloraneusa.com.
4. To Soothe Sore Muscles
To loosen stiff or injured muscles, drizzle mustard into the tub (yes, you read that right). Mustard seed, an ancient remedy used medicinally since biblical times, "has been shown to dilate blood vessels, which can enhance blood flow and help relieve stiffness," says New York City dermatologist Joshua Zeichner. Fun fact: Some professional athletes eat a spoonful of mustard to fight off leg cramps.
TRY: Fig + Yarrow Mustard Soak, $32, figandyarrow.com.
AFTER YOU SOAK
Further alleviate neck and shoulder strain -- especially post-workout -- with Tata Harper Recovery Gel. $42, tataharperskincare.com.
5. To Lull You to Sleep
Hot water, mineral salts, and essential oils are a magical cocktail for relaxing the mind and ensuring deep zzz's. For extra help, add the scent of valerian to the mix: This medicinal herb was studied by Hippocrates, and later became a prescribed treatment for insomnia, according to the National Institutes of Health.
TRY: Kneipp Valerian & Hops Sweet Dreams mineral bath salt, $20, kneippus.com.
AFTER YOU SOAK
Spritz This Works Deep Sleep Pillow spray, which contains lavender, chamomile, and vetiver, on bed linens. $29, thisworks.com.
6. To Ease Eczema
Eczema is itchy and uncomfortable! But relief can be found in a soothing oatmeal bath. Start with warm (not hot) water, and add in colloidal (finely milled) oatmeal. The bath works to relieve the scratchiness and also hydrates and calms tight, irritated skin.
TRY: Aveeno Soothing Bath Treatment, $7, aveeno.com.
AFTER YOU SOAK
Apply a cream with Dead Sea mud and minerals to soothe the redness and chapping of atopic dermatitis. Clineral Topic body cream, $28, ahava.com.
Good to Know
The optimal temperature for bathing and washing away dirt and bacteria is 112 degrees Fahrenheit, says Melissa Piliang, a dermatologist at the Cleveland Clinic. But that may be too intense for some. Always test the water with a finger or toe first; it should be hot, but not uncomfortably so. Post‐soak, rehydrate inside and out with a glass of cold water and some body lotion.
[TREAT YOURSELF: An (Almost) Professional At-Home Spa]
WATCH: Take your bath to the next level with homemade fizzies