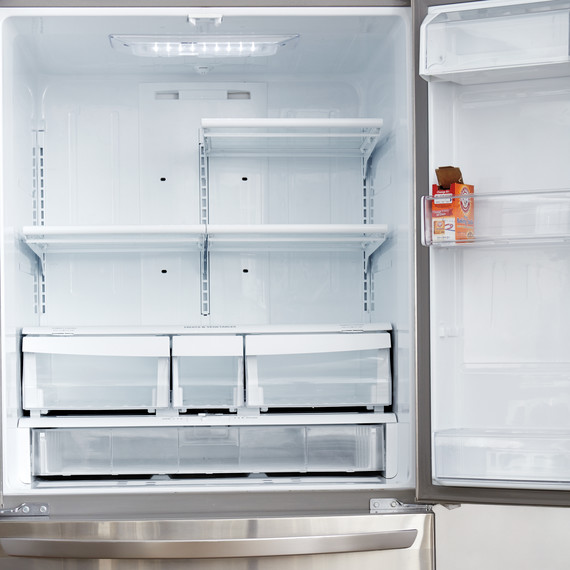 Refrigerator
What You'll Need: Vinegar + Baby Oil
How Often You Should Clean It: Doors as needed; inside thoroughly twice a year
Stainless steel doors
"Fingerprints are a never-ending battle," Toni Hammersley, author of The Complete Book of Home Cleaning says. She wipes them away with a microfiber cloth (we like Libman Wonderfiber; $5 for 2, amazon.com) spritzed with a mix of one part vinegar to two parts water. Then she removes streaks by rubbing on a bit of baby oil with another microfiber cloth, and flipping it over to polish.
Interior
Move food to coolers, turn off the appliance, and take out shelves and bins. Fill a bathtub with six to eight inches of water; add a small box of baking soda. Soak the shelves and bins for about 15 minutes; rinse and dry. Dissolve 2 tablespoons of baking soda in 1 quart of warm water. Apply to a microfiber cloth and wipe the interior.
Pro Tip
Tackle small crevices in the door seals with a pointed-tip cotton swab dampened with warm soapy water. Dry with a towel.
[HERE'S HOW: Cleaning the Other Machines in Your Kitchen]
Plus, a few more easy ways to keep your refrigerator smelling fresh!