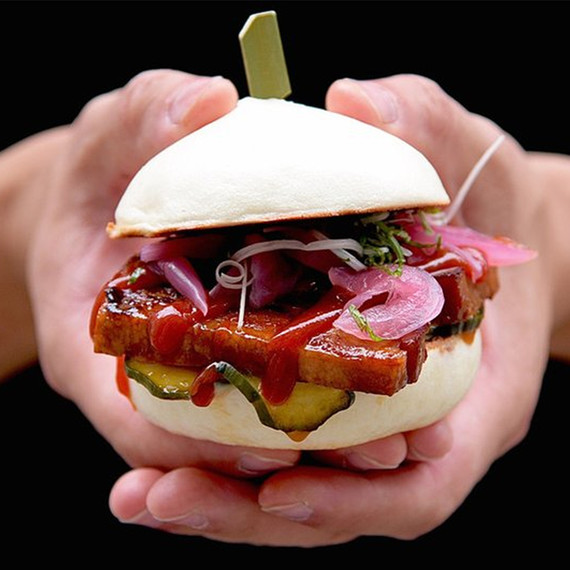 How would you feel if Asia's best female chef served you a burger?
That's exactly what May Chow, who was awarded the title in December by a panel of 300 experts for the annual Asia's 50 Best Restaurants List does. Her inventive, award-winning cooking isn't the stuff of ten-course meals or high-tech molecular marvels -- nor is it the typical Eurocentric fare that Chinese chefs were expected to cook 15 years ago. It's an unpretentious cultural hybrid that combines traditional Chinese methods with an American twist— not unlike the 32 year-old Chow herself, who went to school in Connecticut and attended college in Boston.
Chow's restaurant, Little Bao, is as accessible as it is unexpected. Bao (Chinese steamed buns) are ever-present at eateries across Hong Kong. But at Little Bao, they're juxtaposed with a seriously unexpected American staple, the hamburger. Little Bao doesn't serve ground beef patties in the bao but what she calls 'Chinese burgers' are filled with pork belly, fried chicken, or fish, and served with Asian-American hybrid condiments like hoisin ketchup and Szechuan mayo. The bao burgers are the most popular items on the menu at Little Bao, you can even end your meal with another twist— ice cream bao, which are deep-fried buns with green tea or salted caramel ice cream.
Though her parents were initially resistant to her pursuing a career in the food world, Chow's persistence and passion eventually won out. She cites working in restaurants as a teenager as the starting point, and draws inspiration from other inventive Asian-American restauranteurs including Momofuku's David Chang, and Bo Innovation's Alvin Leung, with whom she got her start.
Little Bao humbly began as a pop-up at Hong Kong farmers' markets. As demand for bao burgers increased, Chow expanded to a small restaurant in Hong Kong, and later, opened a second location in Bangkok. And she's scouting locations in Australia, the UK, and Japan for her next eatery. We hope she'll open up a location stateside soon.