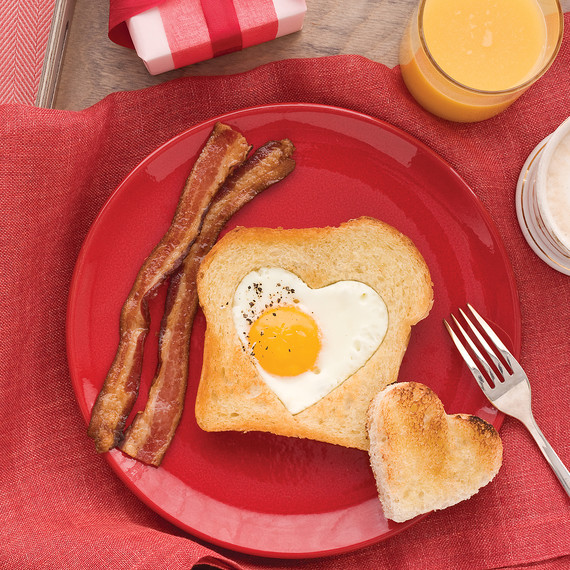 Breakfast: Egg-in-a-Heart
Use a heart-shaped cookie cutter to transform fried eggs and toast into a festive breakfast. Or if your little ones are partial to hotcakes in the morning, try making these heart pancakes instead. Either way, don't forget the bacon!
Get the Heart-Shaped Eggs and Toast Recipe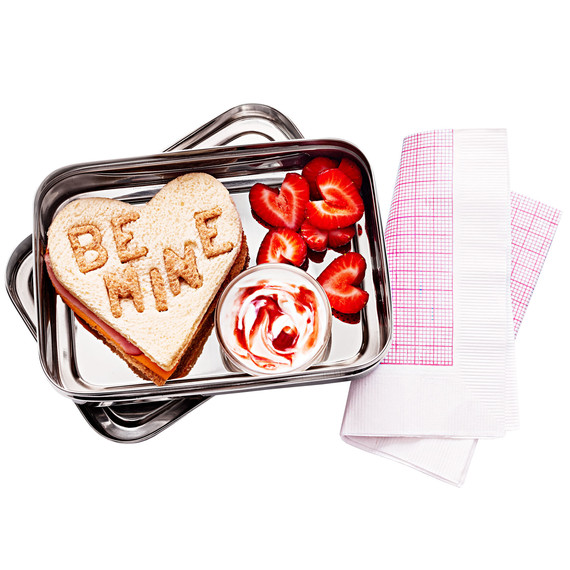 Lunch: V-Day Bento Box
To send your little one an edible lunchtime note, take two slices of bread (one white, one wheat) and use a large heart cookie cutter to shape a sandwich, then small letter ones to punch out a message. Fill the holes in each slice with the cutouts from the other, and look forward to extra hugs after school. For the perfect accompaniment, notch a V into strawberries when hulling them, and they'll be heart-shaped when sliced. Serve them with Greek yogurt swirled with jam.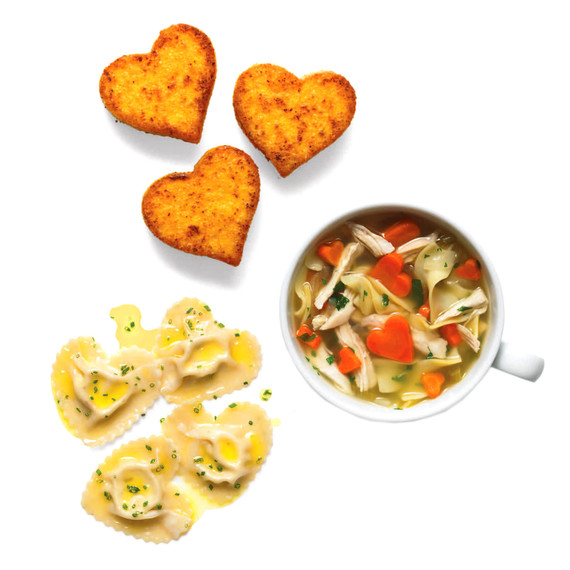 Dinner: Labors of Love
The only thing you need to shower your kids with affection at dinnertime is, you guessed it, a heart-shaped cookie cutter. Use it to cut firm polenta, then saute and serve with sausage and peppers. Or try adding cute carrots to chicken noodle soup -- slice into 1/4-inch rounds while raw, then cut out hearts. Add to soup, and simmer until tender. You can also use the cookie cutter to turn wonton wrappers into adorable Cupid-approved ravioli. Keep supper on the healthy side by sneaking some greens (tender blanched kale) into the cheesy filling -- the kids will love it!
Get the Sausage and Peppers with Toasted Polenta Recipe
Get the Simple Chicken Noodle Soup Recipe