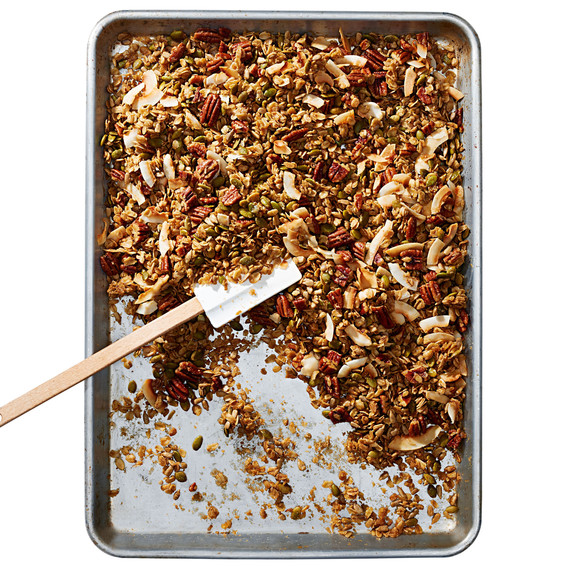 True kitchen multitaskers, rimmed baking sheets have raised edges that keep loose things contained, making them ideal for kitchen duties as diverse as toasting granola and roasting vegetables.
"They're one of those tools that are indispensable to restaurant chefs but that a lot of home cooks don't know about," says our recipe tester Lindsay Strand. "As soon as I started working in a professional kitchen, I realized I needed at least a couple at home. We have stacks of them in the test kitchen, because they are so versatile in ways that a regular cookie sheet isn't."
Here are some of the ways our test kitchen likes to use these 13-by-18-inch sheets that are also known as half sheet pans: 
Toasting nuts or coconut
Making bar cookies and slab pie
Roasting vegetables and crispy roasted potatoes
Cooking bacon set on a wire rack over a rimmed baking sheet
Roasting a spatchcocked chicken
Keeping pancakes or waffles warm and crispy
Cooking an entire dinner on a rimmed baking sheet. Lindsay's favorite recipe is Broiled Beef and Broccoli, an oven "stir-fry."
Out of the oven, use a rimmed baking sheet to:
Cool fried chicken.
Dry blanched vegetables on a rimmed baking sheet lined with paper towels or a clean dish towel. (Martha does this all the time.)
Line with a towel and dry freshly washed herbs, greens, or veggies.
For a less-mess way to frost cookies, set a cooling rack over a rimmed baking sheet and frost the cookies; all the drips fall into the pan, not on your counter or tabletop. 
In the pantry, line a shelf with a rimmed baking sheet and use it to hold oils or vinegars.
As an impromptu dish extra drying rack for entertaining; line with a cooling rack.
Watch Martha make a 30-minute healthy salmon dinner on a rimmed baking sheet: