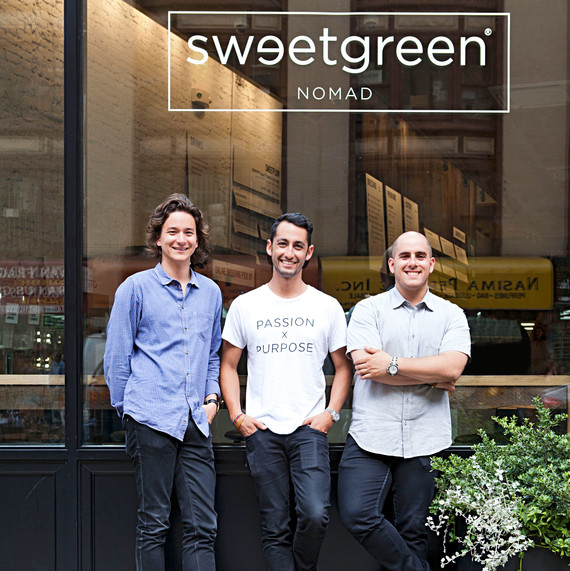 It's been nearly 10 years since the first location of their fast-casual concept began serving wallet-friendly seasonal salads near campus; today, there are more than 60 in eight states, with six more in the works. Everyone loves their Sweetgreen.
"We wanted to create a clean, transparent dining experience and celebrate food that's good for you," says Jammet. They've achieved that by building local supply chains and sourcing ingredients from nearby farms -- currently 2,000 of them. "Our relationships with farmers allow us to experiment," Jammet says—which is why customers in Boston recently found hubbard squash in their salads instead of butternut.
Design is also a key part of the trio's ethos. All outposts have a spare look and open kitchens, and details like extra space for strollers reflect the needs of the communities they serve.
The company hopes to impact the next generation through its Sweetgreen in Schools program, which has reached more than a thousand students through hands-on wellness workshops. These forward-looking touches set Sweetgreen apart, but Jammet describes them humbly: "There's no secret formula -- it's just a new way of thinking about food and creating access to it."
[DIY IT: Until Sweetgreen Comes to a Town Near You...11 Healthy Grain Bowls That Make Effortless Lunches]