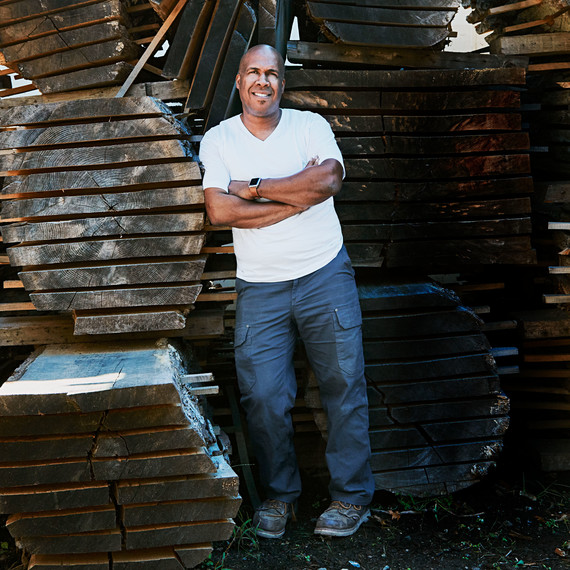 Robert Rising
Yonkers, New York
The seed for Robert Rising's native-wood business, NYCitySlab, was planted during his 17-year run as a waiter at the Four Seasons Hotel, in Manhattan. "I'd hear clients talking about their summer homes in Martha's Vineyard and the Hamptons and think, I want a summer home!" he recalls.
In 2003, Rising bought a plot upstate and framed his dream house, but couldn't find the local wood he wanted for the interiors. So he began buying planks from sheet-cutting yards where fallen trees were being pulverized into mulch, and then bought his own machine and learned from YouTube how to cut them himself. Eventually, he started selling slabs on Craigslist, pivoting from "milling to making tables."
In 2012, after Hurricane Sandy, the U.S. Army Corps of Engineers offered to pay Rising to help remove roughly 125 trees destroyed in the storm and destined for landfills. He turned those logs into stunning furniture and fixtures; word spread, and two years ago, he officially quit his day job.
Now his clients include restaurants, hotels, and corporate spaces, including the new Coach headquarters in Manhattan. "We never cut trees for profit -- every one has to come down because it's old, dangerous, or a nuisance, and I document where it comes from," he says. "We still do the essence of what built us."
[IN THE MARKET? Which Kitchen Countertop Is Right for You?]