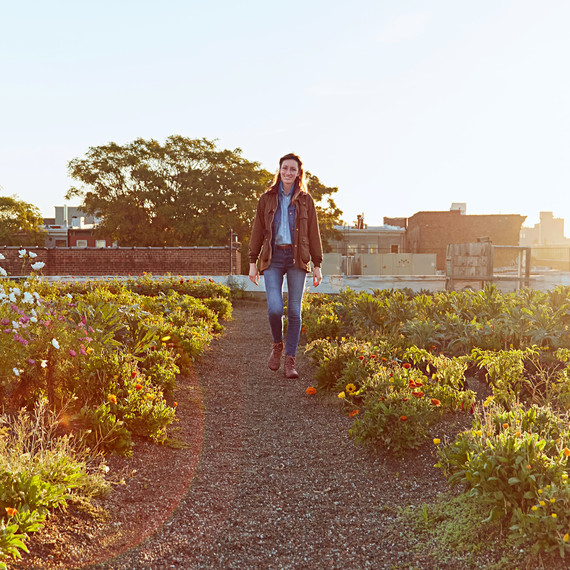 Scroll through Annie Novak's Instagram feed and you'll spot a recurring hashtag: #ilovemyjob.
"I'm lucky to do what suits, and feeds, my nature," she says. A tireless advocate for organic gardening, Novak cofounded Eagle Street Rooftop Farm in Brooklyn in 2009. In an area where the ground soil is too toxic to farm, she is cultivating plants on 6,000 square feet three stories above the street.
Depending on the season, you'll find a glorious array of vegetables (think chile peppers, kale, and microgreens) and cut flowers like calendula and cosmos, as well as chickens, bees, and even bunnies. Novak sells her produce on-site and to local restaurants, offers community workshops, and oversees volunteer apprentices, who learn about farming on the job.
She also wrote The Rooftop Growing Guide (Ten Speed Press, 2016), manages the Edible Academy -- a two-acre plot and forthcoming learning center at the New York Botanical Garden -- and heads Growing Chefs, which works with schools to integrate gardening and cooking lessons into math and science curricula. Her schedule would exhaust the average person, but she insists she's only getting started: "If you love what you're doing, there's no reason to stop.
[TRY THESE: All Our Vegetable Garden Ideas]