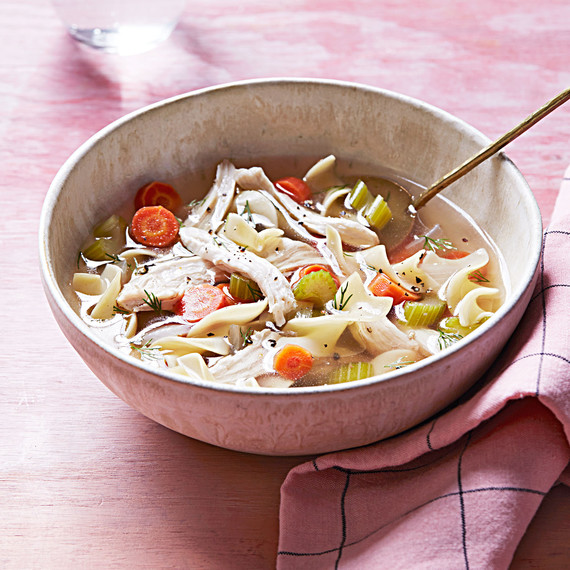 This classic comfort food brims with flavorful protein, vegetables, herbs, and everything you crave in a warm winter meal. Master our ultimate recipe and you'll be able to easily cook up exactly what the doctor ordered on a sick day -- or any day. One of the key secrets behind our next-level version? Adding the chicken backbone and extra wings -- they infuse the broth with more flavor and depth.
Grocery List
Whole chicken, plus 8 wings
Fresh parsley
Fresh thyme
Bay leaves
Black peppercorns
Onion
Carrots
Celery
Egg noodles
Fresh dill
Lemons
Get the Test Kitchen's Favorite Chicken Noodle Soup Recipe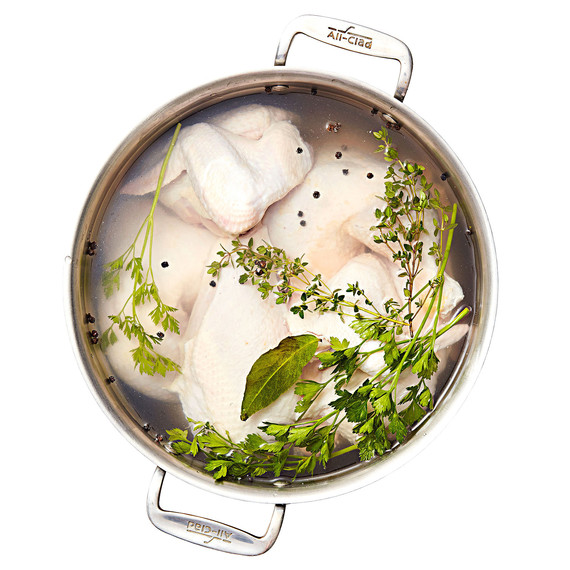 1. Cook Chicken
Fill a large pot with 14 cups water, a 4 1/2 pound chicken cut into pieces with the backbone, 8 chicken wings, 4 large sprigs parsley, 2 large sprigs thyme, 1 bay leaf, 1 tablespoon kosher salt, and 1/2 teaspoon black peppercorns. Bring to a boil. Skim foam, reduce heat, and simmer 25 minutes. Remove chicken (except wings); continue simmering while you discard skin and meat from bones. Cover meat and refrigerate; return bones to pot and simmer 3 1/2 hours more.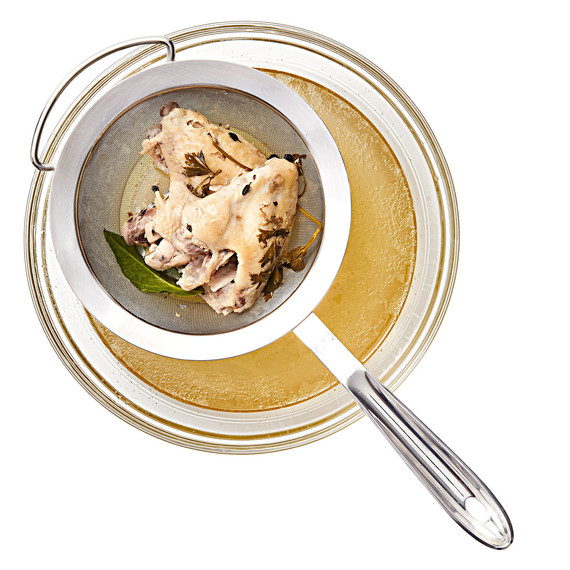 2. Stir in Vegetables
Strain broth through a mesh sieve and discard solids, including bones and wings. Skim fat and transfer broth to a clean pot. Add 1 cup diced onion, 1 cup peeled and thinly sliced carrots, and 1/2 cup thinly sliced celery. Bring to a boil, reduce heat, and simmer until vegetables are very tender, 25 minutes.
Get Schmaltzy
After you skim the fat in step 2, keep it! This rendered fat, called schmaltz, is a rich, butter-like spread for toast or to use in matzo balls. It's also a flavorful option for sauteing and stir-frying. Just keep it in a container in the freezer. (If you make the broth a day ahead, the fat will solidify overnight, and you can scrape it off easily with a spoon.) Schmaltz is like money in the bank!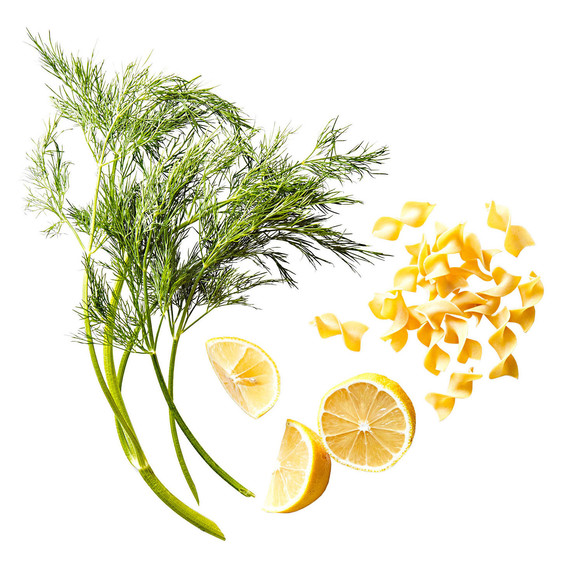 3. Season & Add Noodles
Cut or tear chicken into 3 cups of bite-size pieces. (You'll end up with an extra cup of meat; save it for a salad or a sandwich.) Add to broth, along with 6 ounces cooked egg noodles, 1 teaspoon chopped dill, and 1 tablespoon fresh lemon juice. Heat through, about 2 minutes. Season with salt and pepper; serve.
Around the World with Chicken Soup: 3 Global Renditions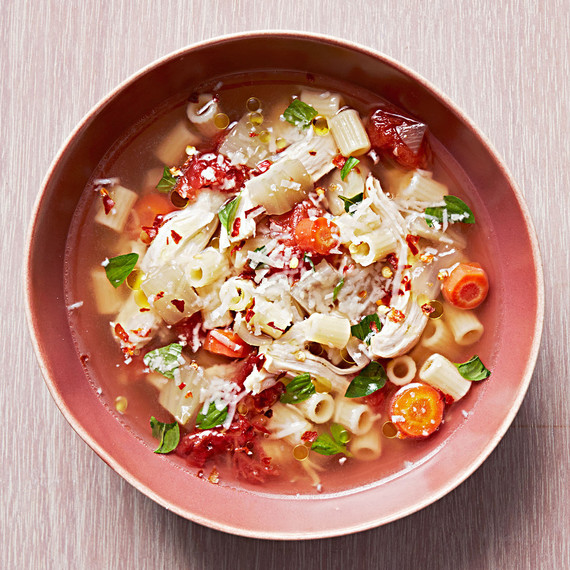 Italian: Basil & Tomatoes
If we had a nonna, this is what she would make. In step 2, replace celery with 1 cup chopped fennel and one 14.5-ounce can whole peeled tomatoes, broken up. In step 3, replace dill with 1/4 cup chopped fresh basil and noodles with 8 ounces cooked ditalini (small, tube-shaped pasta). Top with red-pepper flakes and grated Parmesan.
Get the Italian Chicken Soup with Pasta and Tomatoes Recipe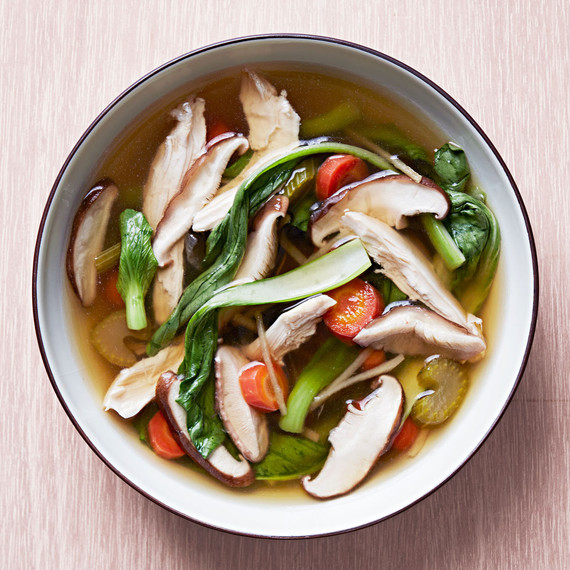 Asian: Shiitakes & Bok Choy
Here's a great way to get some extra greens: Peel and slice a 2-inch piece of ginger into matchsticks and add in step 2, along with 5 cups sliced shiitake mushrooms and 3 tablespoons soy sauce. In the last 3 minutes, stir in about 3 heads thinly sliced baby bok choy. In step 3, replace noodles and dill with 1/4 teaspoon cayenne pepper.
Get the Restorative Chicken Soup with Ginger Recipe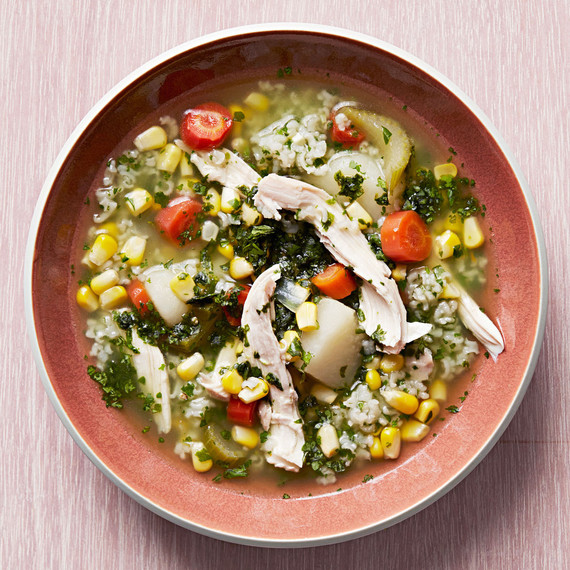 Peruvian: Rice & Potatoes
Pack more heat with a pepper. In step 2, add 1 cup white rice and 1 3/4 cups peeled and diced russet potatoes. In step 3, replace dill, noodles, and lemon juice with 2 packed cups chopped fresh cilantro, 1 stemmed and seeded serrano chile, and 2 garlic cloves (blended together), along with 2 cups thawed frozen corn.
Get the Peruvian Chicken Soup with Rice and Potatoes Recipe