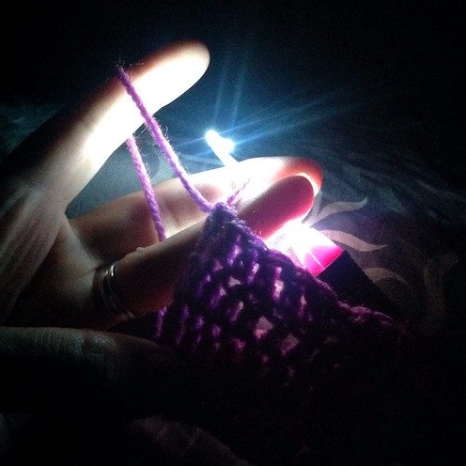 We love to crochet — everywhere and anywhere we can take our materials with us. But we also know that one of the biggest challenges we face is crocheting after sundown with a lack of light. (This is especially true if you want to do some crocheting in bed before you go to sleep and your husband insists that you turn off the lights already.) And of course there's the problem we've all dealt with when we use dark yarn — you just can't see the stitches that well and you may end up messing up your design (and it looks like you may as well have attempted crocheting in the dark anyway). Sigh. We knew there had to be a better way. 
[DON'T MISS: The Essential Tips and Tricks to Crochet]
But we have great news: Today is the day that your crochet game changes completely. Enter these light-up crochet hooks. Powered by batteries with a simple "on / off" switch, these crochet hooks light up in the dark so you can practice your hobby anywhere anytime for as long as you want. Also, that dark yarn problem — solved! And you can't beat the price. For $39.95, you'll get nine hooks in different sizes (from 2.5 mm to 6.5 mm). But you may want to hurry up and order today because by the looks of it these are getting pretty popular so they may sell out very soon.
(Now, aren't you feeling motivated to pick up that yarn and try again?)
[WATCH: How to Crochet a Slip Stitch]